Rogan Gregory conjures up extraterrestrial designs in New York
In a furniture show at R & Company New York, 'Imperfect Truth' (until 28 October 2022), Rogan Gregory conjures up surreal forms in organic matter in his sculptural design pieces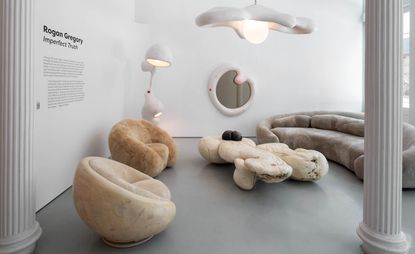 (Image credit: Alexa Hoyer)
Perfectly spherical bulbs jut out of strange, organic figures. Their bright lights seem to peer downwards; unfamiliar forms and globular, fluid-like masses of clays and bronze are suggestive of an extraterrestrial being. Rogan Gregory's exhibition at R & Company in New York seems closer to the invention of an imagined reality than it does to a furniture show.
The pieces, which Gregory has configured into a living and a dining space as well as a gallery of chairs and lamps, are on show at R & Company until 28 October. Simultaneously sculptural and functional, they meet in an adventurous middle, with irregular curves dominating the orchestrated rooms.
Soft material covers 'croissant' sofas and chairs, as well as a lamp, like a slender Dr Zeuss character covered in fur. A large coffee table is splayed across the floor, made from sandalwood that is partially rounded into the smooth fragments of a flat surface, partially left to display its imperfect knots. The use of natural materials in Gregory's designs only adds to the near personification of the objects. The curve of a lamp craning its neck over an armchair is tongue-in-cheeky, introducing a playful element to interior design.
It's clear that the designs represent an exploration – of the designer's creative internal world (see more in our 2020 visit to Rogan Gregory's LA studio) and of the bounds of what we choose to have in our homes. He draws on natural forms to conjure up characters in table legs and lamp bases. 'My work is about reintroducing organic forms and stimulating textures and colours into our flat, rectilinear environments. In doing so, I hope to evoke joy, and emotion more broadly, and to encourage new connections to and awareness of nature' he explains.
Gregory's decade-long stint in the fashion industry is apparent in the humanistic forms of his lamps, he takes a simple curve and dresses it with angular cones of light and surreal cylinders, reminiscent of coral. The pieces sit at a crossroads between art and furniture. In the gallery, Gregory's chairs and stools seem to have taken any route but the simplest to find their structure.
A hanging chair, seemingly taking inspiration from the 'egg' chair, has no back, only a ring of dripping black matter; it is ominous and dainty. Heavy-bottomed chairs mirror footrests and a brass throne has holes, lumps and bumps – and somehow seems to peek at you through its extended orifice.
INFORMATION
'Imperfect Truth' by Rogan Gregory is on view at R&Company until 28 October 2022
r-and-company.com
ADDRESS
64 White Street
New York
NY 10013
USA
Receive our daily digest of inspiration, escapism and design stories from around the world direct to your inbox
Martha Elliott is the Junior Digital News Editor at Wallpaper*. After graduating from university she worked in arts-based behavioural therapy, then embarked on a career in journalism, joining Wallpaper* at the start of 2022. She reports on art, design and architecture, as well as covering regular news stories across all channels.