Elmgreen & Dragset's Queer Bar celebrates social spontaneity
We're toasting Pride Month by revisiting Elmgreen & Dragset's Queer Bar – winner of Best Watering Hole in the Wallpaper* Design Awards 2019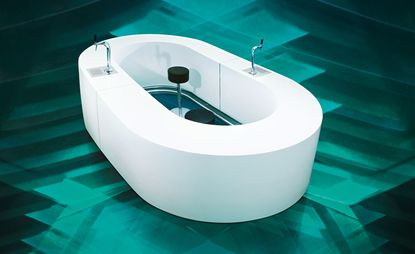 (Image credit: Jean-Pacôme Dedieu)
Were it not for the gleaming beer taps, Elmgreen & Dragset's ovoid Queer Bar/Powerless Structures, Fig. 221 (which won the title of Best Watering Hole in the 2019 Wallpaper* Design Awards) could have been a minimalist monument, its sterile Corian surfaces evoking a clinic rather than a seedy drinking den.
The humour, of course, lies in the piece's inside-out configuration; the black stools are trapped in its core, which the viewer is unable to access. As in the Berlin-based artists' earlier work – whether a diving board bisected by a window, a pair of pissoirs encased in glass, or a series of inoperable doors – the denial of function transforms an otherwise mundane item into a catalyst for contemplation.
Created for the artists' 2018 solo show at Galerie Perrotin in Paris – two decades after its contrastingly square precursor, the original Queer Bar/Powerless Structures, Fig. 21 – the work speaks not so much to LGBT disenfranchisement but rather bygone pleasures. Specifically, it bemoans the fading ritual of meeting new friends or lovers at a bar, at a time when social media has all but driven in-person introductions into extinction.
As we revisit Elmgreen & Dragset's Queer Bar in 2022, in honour of Pride Month – and in the hope that pandemic lockdowns and the enforced isolation that came with them are firmly behind us – we feel more ready than ever to celebrate spontaneous and IRL social interaction. So here's to the artist duo, and to their perpetual raising of the bar.
A version of this article originally featured in the February 2019 issue of Wallpaper* (W*239); subscribe today.
For more from Elmgreen & Dragset, see TF Chan's interview with the artists on the occasion of the opening of their ongoing exhibition, 'Useless Bodies?', which can be seen at Fondazione Prada in Milan until 22 August 2022.
INFORMATION
TF Chan is a former editor of Wallpaper* (2020-23), where he was responsible for the monthly print magazine, planning, commissioning, editing and writing long-lead content across all pillars. He also played a leading role in multi-channel editorial franchises, such as Wallpaper's annual Design Awards, Guest Editor takeovers and Next Generation series. He aims to create world-class, visually-driven content while championing diversity, international representation and social impact. TF joined Wallpaper* as an intern in January 2013, and served as its commissioning editor from 2017-20, winning a 30 under 30 New Talent Award from the Professional Publishers' Association. Born and raised in Hong Kong, he holds an undergraduate degree in history from Princeton University.