Under pressure: Paul Cocksedge unveils foam and marble masterpieces for Moooi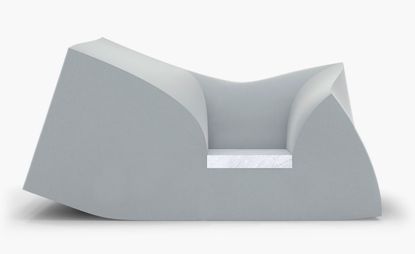 (Image credit: Moooi)
Moooi's Salone del Mobile presence is never short of impressive, not least because of the mammoth 1,700 sq m space in which they creatively showcase their new wares and designs. This year the Dutch furniture company is proving its industry heavyweight status even further with Paul Cocksedge's 'Compression Sofa' – a pure, foam seat structure and its six-tonne marble sister.

'I wasn't thinking of designing a sofa,' begins the British designer. 'I had a block of rectangular foam on my desk and I just pushed down one part and saw, almost in slow motion, this transformation, from an angular block to a curvaceous figure and thought, "it would be great if a person could sit there". There were no sketches or technical drawings involved, instead we allowed the material itself to define the shape.'

The rest, as they say, is history. A playful moment spawned the concept of the sofa and the upscaling process began. Heavy weights and machinery were called in to create the desired effect, a single marble slab creating the seat and permanently altering the shape of the foam. The foam itself was not cut into or manipulated in any other way. 'We simply let the pressure of the weight make the shape,' affirms Cocksedge. 'The angular block had become curvaceous and comfortable, a combination of soft foam and Carrara marble.'

Cocksedge is known for his ability to articulate simplicity through the use of materials, a skill which earned him a Wallpaper* Design Award earlier this year, and a talent he employed again with the creation of the 'Compression Sofa'. Once the foam seat was done another flash of inspiration struck: 'We had one combination, so I thought, let's flip it. So now we have the marble block with the foam seat,' the designer explains.

It sounds simple enough, but the process was long, arduous and ambitious – not to mention heavy. Weighing in at an impressive six tonnes, the marble block was meticulously crafted and carved over a month-long period, continuously checked by hand, ensuring the lines and curves matched the sculptural quality and purity of the foam original. (Cocksedge explains that it is only by touch that you can feel if the smoothness is right – that sometimes the eye can trick you.) Then there were also the transportation woes faced by moving an object that weights as much as an elephant.

The sister sofas now sit across from each other in perfect symmetry, exact mirror images of one another. Perfect counterparts in every which way, they are sure to inspire awe and amusement at the international design event – and, hopefully, a bit of comfort too.
INFORMATION
The 'Compression Sofa' will debut at Salone del Mobile, along with Moooi's new launches. See all the action from Milan as it happens here

Photography courtesy of the designer and Moooi