'Pattern Power: Superstripe' by Patternity at Londonewcastle Project Space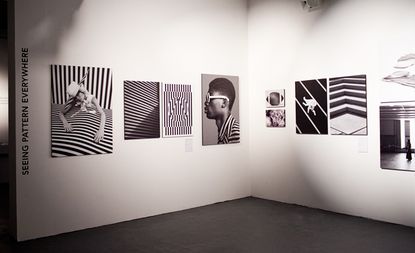 (Image credit: TBC)
Patternity (opens in new tab), the addictive online portal for (and by) pattern enthusiasts, is making the leap from its virtual hub to the real world. The spheres of fashion, art, design, health, science and technology are set to collide in this first edition of a new annual festival of pattern exploration at Londonewcastle Project Space (opens in new tab) in Shoreditch. Throughout April, the venue will play host to an exhibition titled 'Superstripe (opens in new tab)', as well as a series of creative workshops, industry talks, films and interactive events focusing on all things striped.

'Superstripe' itself will showcase works by established practitioners from all over the world – including the likes of fashion designer Craig Lawrence (opens in new tab), art collective Studio Manifold (opens in new tab) and set designer (and regular W* contributor) Robert Storey (opens in new tab) - alongside pieces from the Patternity studio. The launch of the exhibition this weekend also kicks off the stripe-centric programme of events (opens in new tab).

Patternitalks will take place around Patternity's latest furniture collaboration with marquetry craftsman Toby Winteringham (opens in new tab) – the Op-tacular 'Sum' table – with everyone from a neuroscientist to a fashion editor leading the discussion. Patternity also joined forces with Creature of London (opens in new tab) to commission film directors to bring stripes to life on the big screen. Meanwhile, Sunday Sessions are reserved for immersive demonstrations designed to engage visitors on pattern perception.

Co-founded by art director Anna Murray and surface/textile designer Grace Winteringham, Patternity has garnered a loyal following of pattern devotees since its inception in 2009. Although the studio has ventured beyond the digital realm before – its 'Shift Table' scooped a Wallpaper* Design Award in 2011 (see W*143) - Pattern Power is its first offline project of this scope.

Translating a style blog into a multi-disciplinary extravaganza was daunting for the studio. 'Luckily, when we approached potential contributors we found out that many of them already look at Patternity for inspiration, so that link is already established,' said Murray. 'The real challenge was getting the right balance between genres, but it speaks to the unifying nature of pattern that a fashion photograph can hang next to an image of Saturn's rings.'

The spectacle of pattern also extends to a Superstripe pop-up café and shop, which will debut several new collaborative design pieces by Patternity. The studio paired up with bone china specialist Richard Brendon (opens in new tab) for the 'Patternitea Set' and Node (opens in new tab) for the 'Sunstripe Rug'. If the inaugural Pattern Power offering is anything to go by, we hope Patternity never changes it stripes.
ADDRESS
Londonewcastle Project Space
28 Redchurch Street
London E2 7DP
VIEW GOOGLE MAPS (opens in new tab)