Scandinavian smörgåsbord: three star success in Michelin's Nordic Guide 2016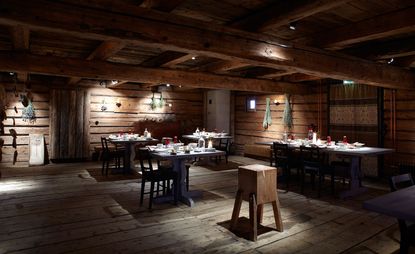 (Image credit: press)
Years ago, when food professionals would speak in hushed tones of a renaissance brewing in the wilds of Denmark, Sweden, Finland and Norway, few could have imagined the impact a handful of imaginative kitchens would have not just on their respective cities' dining landscapes, but on the very self-image of a region unified by a shared culinary history defined by nature and the elements.

Today, New Nordic has become the new standard for cosmopolitan centres and the region's well-deserved success has been recognised in kind by restaurant authority Michelin, who have awarded the territory with multiple honours and firsts in their latest Nordic Guide, including the region's inaugural tranche of third stars.

Taking top honours are Copenhagen's storied Geranium restaurant and Oslo's Maaemo (headed up by Danes Rasmus Kofoed and Esben Holmboe Bang, respectively), both upgraded from two stars to three. Both serve intensely local and seasonal tasting menus reflective of the region's subtly bounteous terroir in hushed, almost reverential dining rooms.

Meanwhile, a greater interest and appreciation of the region led the guide's inspectors to the doorstep of Fäviken Magasinet, in Sweden's remote northern territories. The restaurant is headed up by chef Magnus Nilsson, whose singular focus on hyper-local ingredients has endeared him to his fellow chefs, critics and now Michelin, who have included Fäviken for the first time, immediately debuting with two stars.

Rachel Burr, the guide's editor, said: 'Fäviken offers a unique dining experience in the idyllic setting of a remote hunting estate. Cooking here is highly assured and has its essence in the surrounding land'.

A slew of excellent names were also awarded their first stars – including family-run Swedish restaurant Daniel Berlin, RE-NAA in Stavanger and PM & Vänner in Växjö with its sophisticated cuisine based on 'forest, lake and meadow'.

News of the guide's publication hasn't been unanimously greeted as positive, however – Noma, the trailblazing Copenhagen restaurant and the recipient of myriad 'World's Best' accolades, is conspicuous for its lack of a third star, a years-long absence and perceived snub that has led to a growing sense within luxury hospitality that perhaps Michelin's relevance and influence is not as all-encompassing as it once was.
INFORMATION
For more information, visit the Michelin Guide's website