New design brand Mino Soil unearths the creative potential of Japanese clay
The first in a series of exhibitions, 'Archeology of Mino: in collaboration with Studio Mumbai' explores the creative potential and 'brutal beauty' of clay from the Mino region and marks the debut of ceramics brand Mino Soil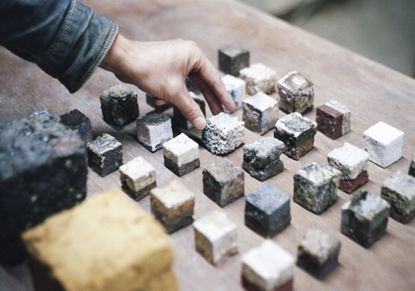 (Image credit: Yurika Kono)
A fragment of tree trunk conserved in the earth for a million years; abstract photography of the dissected layers of a quarry; ceramic spheres from a factory; and a mound of raw clay. These are among items showcased in a new exhibition 'Archeology of Mino: in collaboration with Studio Mumbai', which casts a contemporary light on one of Japan's most treasured materials: clay.
Curated by Swiss design director David Glaettli (creative director of Karimoku New Standard and Tajimi Custom Tiles) and Indian architect Bijoy Jain of Studio Mumbai, the exhibition (8-13 June 2021) taps into the creative potential and 'brutal beauty' of soil from the Mino region of Gifu Prefecture, famed for a rich ceramics heritage meandering back 1,300 years. In particular, it highlights the origins of Mino clay, an ancient material which is painstakingly mined in vast quarries cut deep into remote mountains, and has launched a thriving ceramics industry.
This is the first of three exhibitions planned in Japan over the coming year, which will culminate in the launch of a new ceramics brand called Mino Soil, with interior products to be crafted in collaboration with global designers (discussions are ongoing with Studio Mumbai, Wang & Söderström, Dimitri Bähler, Max Lamb and Kwangho Lee, among others).
Archeology of Mino: an exhibition in collaboration with Studio Mumbai
The new brand will be directed by Glaettli and launched by two Mino-based companies: X'S Corporation (which is also behind Tajimi Custom Tiles) and manufacturer Izawa Corporation.
'Few people know that clay is still quarried in the Mino region and even fewer people have actually been to these quarries,' explains Glaettli. 'They are huge and of a raw beauty that leaves a very strong and lasting impression. In the quarry, the usually hidden layers of soil beneath our feet become visible.
'The deeper the quarry is, the older the clay that is unearthed – up to a million years old. When drinking from a ceramic mug, nobody would think that the material it is made of originated from a place like that and is actually hundreds of thousands of years old.'
A photographic interpretation of Japan's Mino region
A simple showcase of items evokes a sense of Mino's ancient landscape – from small cubes of local clays fired using a range of techniques to the gnarled ancient tree trunk measuring around 1.2m in length, which slowly decays in contact with the air after being preserved in clay for so long. The exhibits are threaded together in the white-walled space through a series of large images of the clay quarries, shot with a direct intimacy by Japanese photographer Yurika Kono.
Shot on film using 35mm and medium format, Kono's images give poetic expression to fragments of Mino, from the detailed abstractions of the layers of ancient earth to the dense green forests that wrap around the quarries. 'Her photos of the quarries make one see and feel the primaeval nature of the material and give a vivid picture of the Mino area, with its landscape, factories and people," explains Glaettli.
Describing Studio Mumbai's curation, Glaettli adds: 'I wanted this exhibition to be about the material only, before taking shape, without showing any products yet. So a designer, or even an architect, did not really seem right. Then I remembered Studio Mumbai, with their very particular way of working and thinking between art and architecture and crafts. It just seemed perfect. Bijoy was interested right away and a stream of thoughts and ideas followed that precisely put into words everything that I vaguely had in mind for the exhibition.'
A second exhibition will showcase a 'ceramic interior', with prototype products highlighting the techniques and skills of Mino artisans, before final products for the new brand will be unveiled in the third show. Glaettli adds: 'I hope that with the exhibition and later, with the objects of the Mino Soil brand, the material clay will be appreciated more and will be perceived differently: as a beautiful, powerful, valuable, limited resource that is much older than mankind.'
INFORMATION
'Archeology of Mino: in collaboration with Studio Mumbai' runs from 8-13 June 2021
minosoil.jp (opens in new tab)
ADDRESS
441, 5-12-1 Jingumae
Shibuya-ku
Tokyo
VIEW GOOGLE MAPS (opens in new tab)