True brew: Michael Anastassiades, Carl Auböck and Sigmar London realise a seamless coffee mill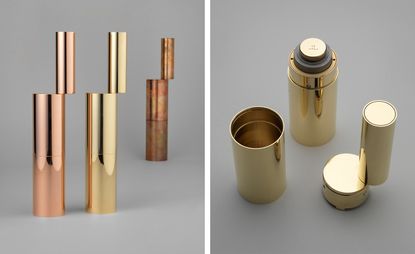 (Image credit: Michael Anastassiades)
Michael Anastassiades, Carl Auböck and Sigmar London have joined forced on a new collaboration, recently launched at Zola Auböck Café in Vienna.

London-based designer and master of contemporary minimalism, Anastassiades drinks freshly-milled coffee every day. For many years, he was thinking about creating a coffee mill that would enhance his daily ritual. When he eventually thought up a design for the perfectly engineered mill, he called his old friend Carl Auböck from the legendary Vienna-based workshop, known for producing decorative and functional brass objects for four generations.

The pair launched their first series of brass and copper mills at the cafe of Auböck's daughter – Zola Auböck café – with the help of Nina Hertig of Sigmar London (a company that distributes and collects rare Auböck's pieces). This was the first time the group of friends had the opportunity to explore the world of coffee, launching the mill in a friendly, sweets-filled presentation that was followed by the tour of Auböck's studio and historical archive.
'I was not very satisfied when I received the first prototype of our mill from Carl Auböck', says Anastassiades, who already collaborated with the workshop on a salt and pepper mill set a few years back. But after a few months, he looked at the model again and realised it was actually exquisite, and decided to produce it.

The silhouette of the mill references Anastassiades's iconic lighting design. Carved from solid pieces of brass and copper, the massive cylindrical shape niftily hides the elaborate mechanism inside. 'It is the first coffee mill with a gear', mentions Auböck. Anastassiades decided against a classic handle and instead created smaller ratio cylinder as a holder for the piece, and because of this, he had to use a gear to get a smoother, more seamless movement for the milling.

The result is a sculptural statement that adds a little poetry and elegance to a daily routine. The copper and brass versions have been made in a limited edition of 10 pieces, and will be available at the Sigmar shop in London.
INFORMATION
For more information, visit the Sigmar London website (opens in new tab)