Outside the blocks: Lego thinks differently to inspire creativity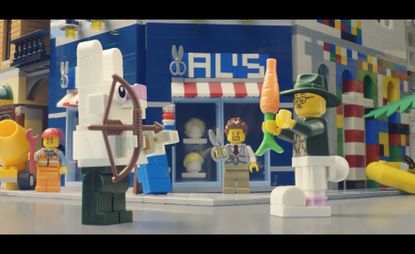 (Image credit: TBC)
Lego has been covering living room floors the world-over with colour and creation since the 1930s. Not all just fun and games, the Danish company is in the very serious business of developing the creative thinkers of tomorrow.

'Rebuild the World', a new initiative announced yesterday by musician Mark Ronson highlights the power of play, and the crucial role of creativity in a childs' potential. Through a series of activations – including workshops at the Lego House in Billund, Denmark, and the brand's first UK 'round-floor' discussion – Lego is reinforcing and celebrating its ability to nurture creative problem solving in the next generation.

For the 'round-floor' discussion, creative thought leaders were brought together alongside children aged 7-11 to discuss the importance of creativity. The grown-up portion of the panel included medical doctor Adanna Steinacker, professor of learning at the University of Winchester Bill Lucas, architect (and Wallpaper* Handmade collaborator) Dara Huang, the Institute of Imagination's Tom Doust, and Wallpaper* Editor-in-Chief Sarah Douglas. 'One hundred years ago, the Bauhaus believed that play was the primary force behind creativity. I too, think a playful mindset is key. It allows you to freely think of an idea without restriction,' Douglas explains. 'The slogan "Rebuild the World" can only serve to empower children – it's a fantastic message.'

To support this thinking, the Lego Group commissioned a YouGov survey in August 2019, quizzing over 500 UK business leaders, 500 UK parents and 500 UK children, to ascertain how these different groups value creativity. With sweeping clarity, the results reveal that it's of critical importance. Reassuringly, parents are clued-up when it comes to the value of play, with 74 per cent agreeing it fuels imagination, developes communication skills and teaches principles of sharing. To wit, over half of all adults surveyed believe their child is more creative than them, which can only hint towards a more exciting future.

Adding economic gravitas, according to 'The Future of Jobs' report by the World Economic Forum, creativity will be one of the top three job skills most in demand by 2020. Because imaginative play is proven to help children learn how to innovate, problem solve and think critically throughout their lives, toys like Lego can be seen in a new light, with real societal importance.

The 'Rebuild the World' campaign – that Lego describes as 'its most ambitious global brand campaign' in its almost century-long history – also features a film created by Traktor collective with BETC Paris, that sees a clever rabbit play chase with an unlucky hunter, inside a vista only Lego could create. The film translates the earnest business of inspiring the next generation, into a visual vocabulary all ages can respond to. 'It's all about seeing where imagination takes us, and celebrating natural creativity,' explains chief marketing officer of The Lego Group Julia Goldin. 'We want to inspire people of all ages to unleash their creativity to create a world of infinite possibilities.' After all, a more creative society is a more interesting one.
For more inspiring design for children, see the Smallpaper* series in our October 2019 issue – on newsstands now.
INFORMATION
Elly Parsons is the Digital Editor of Wallpaper*, where she oversees Wallpaper.com and its social platforms. She has been with the brand since 2015 in various roles, spending time as digital writer – specialising in art, technology and contemporary culture – and as deputy digital editor. She was shortlisted for a PPA Award in 2017, has written extensively for many publications, and has contributed to three books. She is a guest lecturer in digital journalism at Goldsmiths University, London, where she also holds a masters degree in creative writing. Now, her main areas of expertise include content strategy, audience engagement, and social media.