In this Kiev home, the interior design is personal with warm accents of brass and wood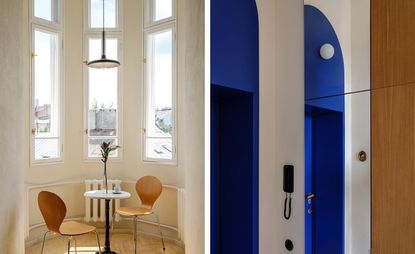 (Image credit: TBC)
While the Golden Gates is one of Kiev's most ancient sites with a history dating back to the 11th century, today its Reitarska Street more closely resembles that of New York's Soho. Buildings of the 11th and 20th century continue to form much of the architectural styles found in this picturesque stretch, however, an influx of young creatives have recently populated the area in newly opened cafés, art galleries and designer showrooms, transforming the budding area into a hip neighbourhood.

Two such visionaries to join the revival afoot are architect Emil Dervish and his friend Marc Raymond Wilkins. After leading a cosmopolitan lifestyle as a film director in Berlin and New York, Wilkins – a self-confessed adventurist – relocated to one of the city's most beautiful streets: Reitarska. Inspired by the Ukrainians' courage, idealism and creativity following the Maidan Revolution, he chose to put down his roots in this creative heartland and purchased an apartment with a history as rich as its surroundings.

Located on the fifth floor of an early 20th-century pre-revolutionary period building, Wilkins enlisted his friend Dervish to help breathe new life into the 62 sq m space over the course of six months. Aptly named 'Birdsnest' after the home's cone-shaped roof, the interior layout consists of a bedroom, bathroom, kitchen and living space, many of which boast high ceilings (3.7 m).
The duo paired warm wood textures with concrete, brass elements and ivory hues to create an inviting atmosphere. While the décor focuses largely on vintage pieces and unique poster prints, it is also embellished with family treasures – the piano in the living room was Wilkins' mother's, the sink in the kitchen belonged to his great-grandfather and the portrait in the bedroom was painted by his father – making the design deeply personal. Moreover, Dervish devised a number of bespoke pieces, produced by local company Paspolini, including an elegant oak and micro-cement kitchen-island, and brass wall cabinets, which might just be the kitchen's pièce de résistance.

Harking back to another time, Birdsnest pays homage to Reitarska, and to the multi-generational family in an impeccable and storied restoration, which highlights the power of camaraderie.
INFORMATION
For more information, visit Emil Dervish's website (opens in new tab)