Czech designer Lucie Koldová realises a house shaped by light at IMM Cologne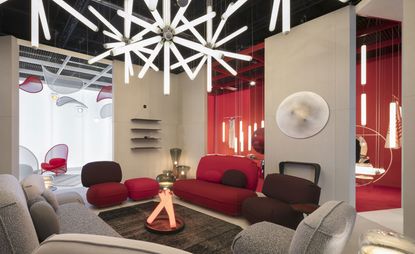 (Image credit: Lucie Koldová)
The concept installation 'Das Haus' has been one of the yearly design calendar's most prestigious commissions since its inception seven years ago. Curated by IMM Cologne furniture fair, it allows rising stars of design to share their visions of a perfect living space – continuing the tradition of the modernist presentations of 'ideal homes' which developed forward-thinking ideas of the avant-garde throughout the twentieth century. Following some heavyweights of the international scene – including Doshi Levien, Luca Nichetto, Sebastian Herkner, Neri & Hu and Todd Bracher – Czech designer Lucie Koldová takes her turn this year with the installation 'Light Levels', in which the space is modulated by different types of light.

Graduating from Prague Academy of Arts and Design in 2009, Koldová is one of the leaders of the current Czech design renaissance. Working in the fields of furniture and lighting, Koldová has created her own distinctive style over the last ten years, connecting precise technical solutions, attention to detail and elegant and sporty aesthetics influenced by her athletic past. She began her focus on lighting design largely with her work for Czech glassmaker Brokis, where she became art director and led the company to major global design events and clients.

Consisting of four main boxes clustered around the central living space, Koldová's 'Light Levels' house presents different moods and characters, using distinctive materials and spatial solutions. A dark central living room is dominated by the hanging light installation 'Puro Sparkle', developed with Brokis. While the interconnected bedroom and bathroom is clad in natural wood and furnished with a glass basin, the study room is covered with the pure white translucent walls, stimulating the mind and encouraging creative thinking.
A model of 'Light Levels,' this year's Das Haus exhibition at IMM Cologne by Lucie Koldová

Also in the floorplan is a seductive red dressing room, covered with Kvadrat textile panels. The last, spiritual room is furnished with a centrally positioned 'Blossom' sofa, developed by Koldová together with Slovenian company Prostoria (which also made the 'Link' sofa in the central space).

Koldová has designed several custom-tailored products for 'Das Haus', in collaboration with high-end Czech and international brands. Brokis contributed new lines of lamps, including the aforementioned 'Puro Sparkle', 'Jack'O Lantern', 'Ivy', 'Big One' and the one-off 'Fire' centerpiece, situated at the table in the main living room and symbolising the heart of the dwelling. An armchair, 'Chips', was developed with the Czech company Ton, using bent wooden rods: a flamboyant take on the traditional technology invented by Michael Thonet in the 1850s. Other new products, including Ton's 'Cocoon' armchair and the 'Lens' wall lamp by Fabbian, were also produced specially for 'Das Haus'.
INFORMATION
'Light Levels' is on view until 21 January. For more information, visit the IMM Cologne website (opens in new tab)
ADDRESS
IMM Cologne
Messepl. 1, 50679
Köln
Germany
VIEW GOOGLE MAPS (opens in new tab)