John Pawson designs architectural oil lantern for Swedish brand Wästberg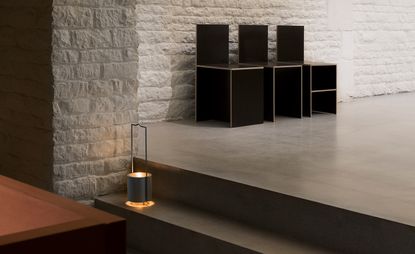 (Image credit: Photography: Gilbert Mccarragher)
Swedish lighting company Wästberg introduces a John Pawson-designed model to its latest collection, Holocene, that is inspired by a certain atmospheric temperature of light, 'kura skymning'. This is an old southern Swedish word that has no translation in English and is rarely used these days, even by Swedes. It refers to the short time between daylight and dusk, when it is too dark to work inside, yet not dark enough to justify burning precious fuel. Before the advent of artificial light, Swedes would use this small passage of time to sit down and talk a while, and when darkness finally came, the fire would be lit.

Kura skymning was very much on the mind of Magnus Wästberg, CEO and founder of the ten-year-old Swedish lighting company Wästberg, when he conceived Holocene as a series of lights that use fire instead of electricity.

'It's about rediscovering something that we've forgotten,' says Wästberg of the series, which is named after the geological period Holocene, stretching from 11,700 to around 100 years ago, when man lived in harmony with nature, was careful with resources and cherished fire. 'We lived with fire for 300,000 years but for the last 100 years or so we've been exposed to electrical light, so it makes sense that we feel better around light that comes from a flame.'
The Holocene collection was a concept that Wästberg dreamt up over a decade ago in a manifesto called 'lamps for neanderthal man', but he waited until last year to launch. 'Our other collections are very high-tech and mostly LED but from the start I had this idea of making a parallel collection with fire as light sources. I didn't have the guts or idea of how to do it back then. It would have been confusing for the market for us to launch a state-of-the-art lamp and then a candlestick."
So far, Wästberg has collaborated with a stellar line of designers to produce pieces in the Holocene collection, namely Ilse Crawford, David Chipperfield and Jasper Morrison, so perhaps it's not surprising that the latest designer to contribute to the series is heralded British architect and master of minimalism John Pawson.

'I tend to do things on instinct and design things only if I need them for a project, and this is very much something I wanted,' reflects Pawson examining the clean-lined stainless steel and aluminium lantern. 'It has surprised me that it has such a presence. It's more like a piece of furniture than a lamp.'
Holocene No.4, as it has been named, is essentially an oil lantern that has been reduced to its essential form. A year in the making, its matt exterior surfaces and a polished internal core amplify the fire within, which burns from a perfectly milled, highly engineered spill-proof canister, which safely stores the oil.

Its long handle with a perfectly-placed kink at the top allows it to be rested on a dining table or a window sill, stood on the floor or hung from a wall.

'Everything you need for architecture, light being the most important, also proportion, material, scale, all of these things that you apply to buildings and rooms, you would apply to something like this,' says Pawson. 'Candlelight gives you an immediate atmosphere regardless of the space, and I'm always trying to make rooms which have atmosphere.'

Holocene will be available to buy online from Wästberg's e-shop from Monday 12 November 2018.
INFORMATION
Holocene, €349, is available to buy online from Wästberg. For more information, visit the website (opens in new tab)