Iris van Herpen brings her creative vision to Dom Pérignon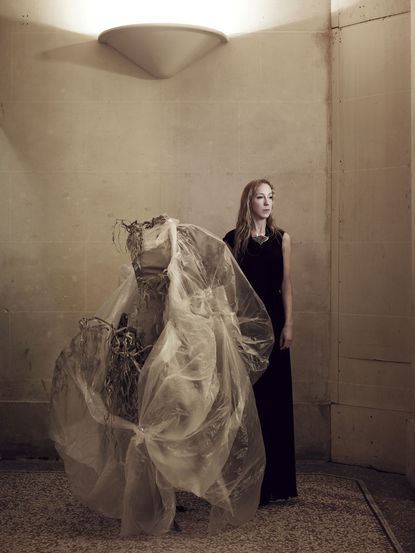 (Image credit: Baptiste Mondin)
All great innovators, regardless of their medium, have one thing in common: the absolute desire to keep pushing boundaries and deliver something never seen before. And this drive for discovery is precisely what inspired the champagne brand Dom Pérignon to approach Dutch fashion designer Iris van Herpen to be the most recent collaborator in its 'Power of Creation' series, which has seen creative greats such as Marc Newson, Jeff Koons and David Lynch partner with the brand.

Van Herpen's avant-garde designs, which explore concepts of biology, skeletal structures and organic forms by using envelope-pushing techniques, such as 3D printing, have won her numerous awards, including the prestigious ANDAM 2014 award and the Golden Eye prize at the 2013 Dutch Design Awards.

'I think the most important moment for me in the whole collaboration was actually visiting Epernay in March where I saw the whole wine-making environment,' says van Herpen of the design process. 'It's almost like going into someones atelier; when you see how someone is working you start to understand how someone is thinking and Richard [Geoffroy, creator and chef de cave of Dom Pérignon since 1990] is really a bright mind.'

Her task for Dom Pérignon was two-fold; to create a limited edition box and label for the new vintage, as well as a made-to-order art piece (referred to by the brand as the 'uber piece'). The resulting metre-long vertebrae-like structure, built to encase a bottle of the vintage champagne, is named 'Cocoonase'. The form is 3D printed using a dark emerald green polymide that is then coated - a technique van Herpen first explored with her skeleton dresses on the runway.

Both projects, aptly titled 'Metamorphosis', were commissioned to mark the drawing to a close of Dom Pérignon's 2004 vintage and to celebrate the launch of its second phase, named 'P2-2004' - meaning the second plenitude or chapter.

'I felt very inspired by nature,' says van Herpen, referring to the emerald green colour used throughout the project, which is of course, important in the whole process of wine making. 'What I found very beautiful was the constant transformation of the wine,' she explains. 'They [Dom Pérignon] create a vintage but over time, say eight years, the taste is constantly evolving.' Evolution and movement have always been an inspiration for the designer, who trained as a classical ballerina for fifteen years before discovering fashion.
Receive our daily digest of inspiration, escapism and design stories from around the world direct to your inbox
Tilly is a British writer, editor and digital consultant based in New York, covering luxury fashion, jewellery, design, culture, art, travel, wellness and more. An alumna of Central Saint Martins, she is Contributing Editor for Wallpaper* and has interviewed a cross section of design legends including Sir David Adjaye, Samuel Ross, Pamela Shamshiri and Piet Oudolf for the magazine.