In memoriam: Nanda Vigo (1936-2020)
Celebrating the female force of otherworldly design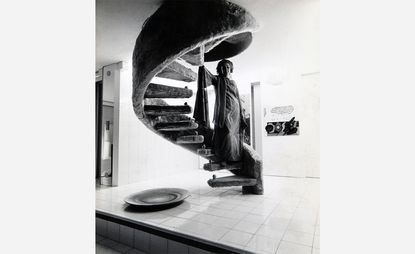 (Image credit: PRESS)
Nanda Vigo's work was retro-futuristic – objects, lamps, sculptures and interiors that seem to inhabit the space around them like creatures from another world. The artist and designer, who passed away last week in Milan, has seen particular public recognition in recent years, with awards and solo exhibitions in Russia and Germany, and most recently in Milan last year at Palazzo Reale.

During her lifetime, Vigo's work was recognised from the early days and at important cultural events such as Venice Biennale and Triennale di Milano. She worked with the likes of Gio Ponti and Lucio Fontana on installations, interiors and environments. Vigo was also associated with Ettore Sottsass and Alessandro Mendini, who was the first to dedicate the front cover of Domus to her work.

Vigo studied architecture at École Polytechnique Fédérale de Lausanne and straight after graduating, while still very young, she moved to the United States – she was drawn in by the idea of studying under Frank Lloyd Wright. Vigo lasted less than a month in his atelier in Taliesin West, before moving on to San Francisco, but found that the design environment there didn't suit her. Her mindset of the American experience changed in 2014 when her work was exhibited at the Guggenheim in New York as part of the retrospective show on Group Zero. Vigo was a founder and member of the artist group alongside Heinz Mack, Enrico Castellani, Otto Piene, Yayoi Kusama and Piero Manzoni, who was also Vigo's life partner until his passing in 1963.
In 1959, Vigo returned to Milan and began a career that thrived on the multidisciplinary nature of the Italian city and the craftsmen and manufacturers in the surrounding area. In 1964, Gio Ponti was commissioned to design the house of an art collector and Vigo designed the interiors in white tiles and fake fur. Known as 'The beetle under the leaf', the house located in Malo, Vicenza is still intact.

Many of Vigo's other pioneering projects that are no longer in existence such as the Zero House, the Blue House, the Yellow House and the Black House – designed between the 1960s and 1970s for clients with a passion for art – were spaces articulated by paintings, reflective surfaces, transparent glass panels and lights. The distinct visual language of Nanda Vigo was characterised by a melding of her obsessions: the domestic space, the refraction of light, the transparency of glass and a sense of suspended reality.

At the age of seven, when she was an avid reader of sci-fi comic books (particularly Flash Gordon), she was strolling through the streets of Como one day and was blown away by the architecture of the Casa del Fascio by Giuseppe Terragni. References to the sunlight piercing through the glass blocks of that building, creating overlapping forms and illusions can be found in some of her most famous works of the 1960s as well as in some of her sculptural lamps, the most recent of which are made with LED lights and pyramid-shaped mirrors.

As an industrial designer Nanda Vigo had a brilliant career working with some companies at the forefront of design such as Kartell, Flou, Glas Italia, Acerbis and Driade. She created iconic pieces with Arredoluce and Conconi such as the first Italian halogen lamp 'Golden Gate' and 'Due più' the tubular steel chair upholstered in synthetic fur.
Receive our daily digest of inspiration, escapism and design stories from around the world direct to your inbox