Remembering legendary Brazilian modernist Jorge Zalszupin (1922-2020)
Retracing the 'succession of miracles' from Jorge Zalszupin, an icon of Brazilian design who has passed away aged 98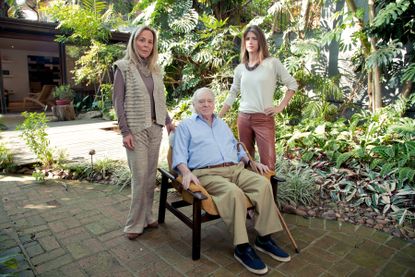 (Image credit: Vava Ribeiro )
The design world has lost a master with the passing of Jorge Zalszupin, aged 98 years. Polish by birth and Brazilian at heart, he lived life to the fullest, often describing his story as 'a succession of miracles' – a personal reflection no doubt born of the same innate elegance as his iconic furniture.

He was born Jerzy Zalszupin on 1 June 1922 in Warsaw, Poland to Jewish parents. At the age of 18 he moved to Bucharest to escape Nazi occupation, graduating from Romania's top architecture program in 1944. He began his career as an architect in France, rebuilding after WWII. Here, the lasting weight of war and unrelenting reverence for history and its traditions took a toll on this modernist eager to move forward.In 1949, he emigrated to Brazil, excited by the possibilities in a country that was rapidly modernising and becoming more politically and culturally progressive at equal pace. He was also deeply inspired by the innovative work of Oscar Niemeyer and other modernists of the time.

Within a decade of arriving awestruck in Rio de Janeiro with no prospects or Portuguese language skills, the tenacious Zalszupin had made a name for himself, started a family, became a Brazilian citizen and launched his own architecture firm, Escritório Téchnico Prumo in São Paulo. He also started collaborating with Niemeyer himself, designing furniture for the most important commission in the country's history, the sweeping new capital city of Brasília.
Zalszupin began designing furniture at the requests of his clients, who wanted continuity between the interiors and the modern homes and office spaces he designed for them. With a serious dearth of options in the market and a ban on imported goods, he began designing furniture and coordinating fabrication with a few skilled craftsmen. It wasn't long until he founded L'Atelier, a design studio, manufacturer and retailer of high-quality modern furniture.

The Poltrona Dinamarquesa, or Danish Chair was his first independent effort, and is considered an icon of Brazilian design – even with an overt nod to Danish masters Hans Wegner and Finn Juhl. The sensual curves of the arms and slim, tapered legs give it Brazilian flair, recalling certain architectural details of Niemeyer's Alvorada Palace in Brasília. This is the point where Zalszupin's legacy begins.
'He is a legend of Brazilian modernism, who created timeless furniture designs of exceptional quality,' said Lissa Carmona Tozzi, CEO of ETEL, who together with her mother, designer Etel Carmona worked directly with Jorge to reissue a range of his pieces in 2006. They ensured the longevity of the works by adhering to restrictions on many of the rare Brazilian woods originally used in the products, such as jacarandá or Brazilian rosewood.

Other iconic pieces, like the Poltronas Presidencial and Brasíliana, or the Pétalas table series pushed Brazilian furniture manufacturing forward in 1959, pioneering the use of bent-plywood furniture construction in the country. While he was a master at working with native wood species, he also explored other materials with the same eye for innovation, from steel to marble to fibreglass and even moulded plastics later in his career. These techniques are now commonplace in Brazil, but before Zalszupin helped develop a more sophisticated supply chain, they weren't.

This lesser-known legacy as an industrialist, innovator and leader in an era of protectionism is significant too. 'I'm not sure I could be a furniture designer in Brazil at this level today without the contributions of Jorge Zalszupin as a manufacturer, innovator and a businessperson. He and his teams laid the foundation for our industry,' said São Paulo-based furniture designer Guilherme Wentz.The succession of miracles that Jorge Zalszupin saw as his life will continue, as his legacy inspires and supports designers, enthusiasts and industry professionals for generations to come.
Receive our daily digest of inspiration, escapism and design stories from around the world direct to your inbox