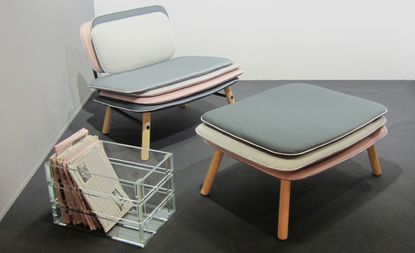 (Image credit: TBC)
Kicking off the design fair calendar for 2012, IMM Cologne once again pulled in big design brands from near and far this year but also proved a magnet to a younger generation of talent. Another new direction for the fair was a special exhibition dedicated to decorative interior furnishings, titled LivingInteriors (opens in new tab).
Weaving our way though the packed halls, we were happy to stumble across fledgling family-run German design company Loehr (opens in new tab) - which was showing a selection of geometric tables, stools and chairs - and, somewhat surprisingly, we found ourselves stopped in our tracks by some rather lovely bins from Böwer (opens in new tab) .
Elsewhere in the fair, our eyes were drawn to the D3 (opens in new tab) stand - exhibiting the winning products of IMM's annual young design competition. South Korea's Lee Sanghyeok proved himself worthy of praise, with his beautiful wooden desk design, while Germany's Adreas Mikutta (opens in new tab) made us want to lie down and take a break on his enticing daybed.
Out of the confines of the fairground, we sped over to the Design Quartier Ehrenfeld (opens in new tab), which played host to events including the exhibition for young talent, 'Designers Fair 2012' (opens in new tab), where Cologne duo 'Kaschkasch' (opens in new tab) - one of this year's entries for the Wallaper* Graduate Directory (W*154) - caught our attention once again with its elegant benches and coat rack.