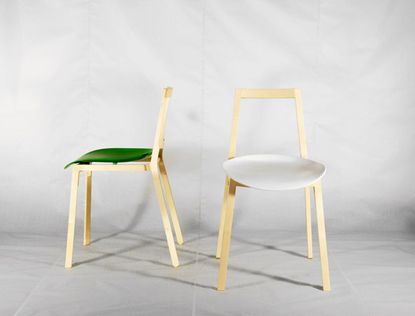 (Image credit: TBC)
The first furniture fair of the year, IMM Cologne (opens in new tab) is often noted as a place where big brands show new finishes for existing pieces or reissue past classics, rather than unveil new collections. This year turned out to be somewhat of turning point, with a wealth of new products on display within the fair's many halls.
A standout in this year's new 'Living Kitchen' section was Matteo Thun's (opens in new tab) collaboration with Milanese brand, Riva 1920, and American Hardwood (opens in new tab). His 'La Cucina' installation deliberately harked back to a time before gadgets and mechanisation, when simpler kitchens centred around conviviality. 'I am not a friend of all these electrical controls,' Thun said. 'It is against the nature of our Mediterranean approach of sitting and talking to nonna [grandma].' Surrounding the central cooking tripod was a series of units, also constructed by Thun, using wood reclaimed from his 'Beacons' installation at last year's Salone del Mobile.
Elsewhere in the fair, the Design Talents show proved a big draw, with highlights including Laetitia Florin's rubberised 'Bidum' storage containers and Emilie Colin Garros' 'Functional Rhythm' table. Making a feature out of metal framework proved a persistent trend, as shown by designers like Linn Kandel and Schwab/Panther.
Ligne Roset's (opens in new tab) contribution to the fair is also always a highlight. This year it unveiled new additions to its Ruché collection by Inga Sempé (opens in new tab), and a 'Simplissimo' range of seating, including a banquette and chaise longue, by Jean Nouvel (opens in new tab), which may look firm but are actually surprisingly comfortable.