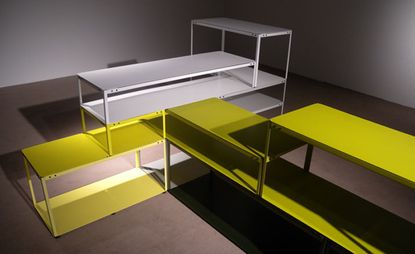 (Image credit: TBC)
"There are no trends at all this year!" wailed one reporter into his mobile on the train back from the imm cologne furniture fair, and I wondered whether we had been to the same event. True, if you were looking for bling or all-expense-spared fashion statements, Cologne was not the place to be, but a shift in consciousness resulting from the economic downturn and environmental awareness was very much in evidence.
Apart from references to 'eco' issues and a few examples of blatant green-washing, there was a distinct lack of gimmicks and a general feeling of a return to simplicity and tradition. Giant knitted objects abounded as did examples of other handcrafts such as well-made wooden furniture and decoratively stitched coverings.
The fair organisers laid emphasis on conceptual strategies in design and the idea of community to varying degrees of success: the new 'Pure Village' section (designed by Dick Spierenburg) in Hall 11 was a hotchpotch of products and companies displayed in an architectural setting based around a central 'square'. Here too were open lectures by designers such as Max Lamb explaining the processes involved in their work. Marcus Fairs from Dezeen hosted a number of talks with designers such as James Irvine, creative director at Thonet, and Tomás Alonso from OKAY studio in the D3 Design talents section which also housed numerous installations from design groups and colleges that explored experiments in new ways of living.
It has to be said that the imm seemed a little quiet on the opening two days, compared to the insane multitudes in Milan for example, but that seemed to suit the manufacturers quite well. "Milan is just for the bosses to visit" says Peter Wesner, partner at E15: "a new product has to be shown and fit into the collection, but it has to be sold as well and for that you need your salespeople to have a chance to meet and talk to the dealers". Shipping the whole sales team to Milan is a highly expensive business, especially when budgets are tight, he explains, but the Cologne fair is still manageable in this respect.
Although some companies were conspicuous by their highly reduced presence, others, such as Classicon, made a reappearance at the fairground after several years of showing outside. One newcomer that particularly caught our eye was Jörg Schellmann whose severe yet beautifully proportioned collection of angular, steel-framed furniture was unashamedly modern and industrial-looking. Schellmann's 40 year background as a contemporary art producer for the likes of Donald Judd and Sol le Witt is plain to see in his designs and a highly refreshing counterbalance to all the curvy biomimicry and formalism that has abounded over the last decade.
Outside the fair, the alternative Passagen events dotted around the city were highly disappointing and it was clear that many were feeling the pinch economically. Exceptions were the Designers Fair making its second appearance in a huge old building on the banks of the Rhine and Mike Meiré coming up trumps as usual with his 'Revolving Realities' multimedia installation in his own industrial atelier space for Dornbracht.
The imm cologne is about the business end of design and the furniture industry. It always was. It is not about stunning locations and 'see and be seen'. It is one of the easiest fairs to access and move around, everything is clearly signposted and documented and you can find a taxi if you need one. And when you are done doing business you can hop on the Thalis to Paris Nord and three hours later you can be having dinner by the Seine and planning your route around the next fair, Maison et Objet, which conveniently launches directly afterwards.