Tracing the radical evolution of domestic interior design
Vitra Design Museum presents 'Home Stories: 100 Years, 20 Visionary Interiors,' a major exhibition that celebrates the power of interior design in the last century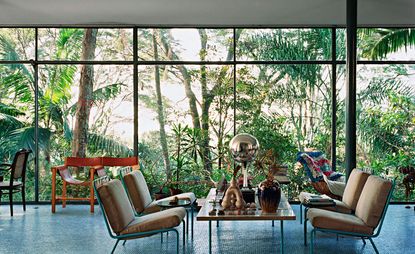 (Image credit: Nelson Kon)
Those working in the business of residential interior design often feel frustrated that while there is plenty of compelling and serious conversation around the topic of housing, the design of the domestic interior is increasingly trivialised.

Hoping to redress the balance, 'Home Stories: 100 Years, 20 Visionary Interiors' is a new major exhibition at the Vitra Design Museum in Weil am Rhein that celebrates the power of the interior. The show highlights how in the past century, the Western domestic interior has come to reflect some of the most pressing issues of our time.

To tackle this vast and ambitious subject, curators Jochen Eisenbrand and Anna-Mea Hoffmann selected 20 game-changing interiors from the past 100 years to guide the show's narrative. References to superficial trends or styles are avoided and the focus is placed firmly on ideas.

'There was the question of how to show interior design in the exhibition,' recalls Eisenbrand. 'We decided not to try to recreate any interiors because we think that this never really works in a museum context. You don't have daylight, you don't have a sequence of spaces, and in the end it always seems a bit dead and dusty.'
Set Design
The exhibition is filled with drawings, documents, films, photographs, furniture and models laid out across an understated set design by Joseph Grima's studio Space Caviar. Intended to function as a simple but elegant backdrop to the complex and layered issues presented, the display stands are made from a system of modular cork bricks topped with mirrored surfaces. Grima says the system can be endlessly reconfigured as the exhibition travels to different locations, and beyond that, can be repurposed as building materials.
Laid out in reverse chronological order and split into four sections, the exhibition takes visitors backwards through time from the present day to the 1920s.

'The reason for going back in time is to show that present day is not necessarily better than 100 years ago,' explains Hoffmann. 'Although I hope we have learnt from our mistakes, this layout demonstrates that there is never a linear history.'
Space Economy and Atmosphere: 2000 – Today
In this section, issues of dwindling urban space and the impact of social media are explored through projects such as an apartment designed by architecture studio Elii where furnishings fold out of walls. A slide show of images selected by Jasper Morrison serve as a visual essay that meditate on the question of what makes a 'good interior'. 'I have an idea of what makes a "good object" but making a good room is more complex,' says Morrison. 'Exceptional interiors are much rarer than exceptional objects, and few people have the skill necessary to create them.'
Rethinking the Interior: 1960 – 1980
Along with the radical new design approaches that came with movements such as Memphis, in section Rethinking the Interior: 1960 – 1980, we witness how society's perception of furniture shifted – from heirlooms to be treasured and passed down through generations to consumer products that could be disposed of as fashion changes.
Nature and Technology: 1940 – 1960
This area highlights how homely Scandinavian interiors, such as those seen in the home of architect Finn Juhl, became increasingly influential and architects such as Lina Bo Bardi started to blur the boundaries between indoors and out.
The Birth of the Modern Interior: 1920 – 1940
In this final section, we see the emergence of concepts, such as the open-plan interiors championed by Mies van der Rohe, that still dominate today. Exhibits include a reconstruction of the world's first fitted kitchen designed by Austrian architect Margarete Schütte-Lihotzky in 1926. Schütte-Lihotzky wanted the Frankfurt Kitchen to make modern life more streamlined and ultimately reduce the burden of women's labour in the home.
The Frankfurt kitchen is one of three life-size installations dotted throughout the show – the other two include George Candilis' clinical Hexacube micro-house from 1972, which is placed outside the museum entrance, and Verner Panton's upholstered Phantasy Landscape room, which visitors are free to explore in Zaha Hadid's nearby Fire Station building.

'I want visitors to see how diverse the discipline is, how many changes there have been throughout history and how design not only reflects us as individuals but society as a whole,' reflects Hoffmann. 'Some of the projects showcased could be seen as failed visions. We didn't want to only showcase interiors that worked out perfectly because design is about failure and innovation.'
INFORMATION
'Home Stories: 100 Years, 20 Visionary Interiors,' Vitra Design Museum, until 23 August.
ADDRESS
Vitra Design Museum
Charles-Eames-Straße 2
79576Weil am Rhein
Germany