Hitchcock movies set the mood for this virtual interior design project
Atelier Avéus creates an Alfred Hitchcock-inspired storyboard with its newest wares, a virtual space for curiosity and escapism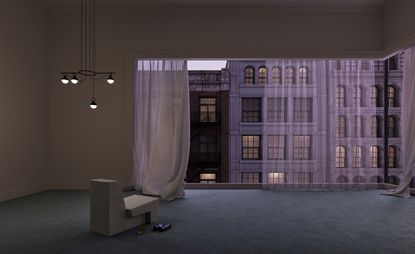 (Image credit: Atelier Avéus and Ergun Ayral)
Cultural references are deeply engrained into the work of Atelier Avéus – a design studio founded by French architect and designer Morgane Roux. For its latest collection, Atelier Avéus has built a virtual interior environment for the audience to escape inside, one that was inspired by iconic movies directed by Alfred Hitchcock.

Roux was drawn to the peculiarity of Hitchcock sets when working on the art direction for this project. 'Hitchcock often represented the physical world as a projection of a disturbed person shown through striking set design and lighting effects,' Roux explains. In a culmination of suspense and drama, the Atelier Avéus storyboard unfolds as three spaces: The Confinement Room, The Uncanny Lobby and The Secret Hotel Room.
An unmade bed, a cracked door and low dusk lighting make up the hotel interior, with the Console Mirror reflecting the ominous area – alluding to the notion of double identity in the 1958 psychological thriller Vertigo. Taking centre stage of The Uncanny Lobby is a steel and frosted glass suspension light – a protagonist in this area of suspense and limbo – what is upstairs, what is downstairs?

When describing The Confinement Room, Roux says: 'The architecture of the room is an instrument of gaze that becomes gradually more efficient as darkness increases. The huge window provides a visual escape to the public realm reinforcing, by contrast, the isolation of the character inhabiting the room'. This location takes its cues from the 1954 Rear Window, and adopts a similar sense of observation – a place filled with oddities, yet empty at the same time.
The chair is integral to The Confinement Room – an upholstery piece with a bouclé wool and viscose fabric, but while soft in feel, its edges are architectural and give a sense of sculpture in the lonely spot.

Mixing reality and fiction eloquently, the theatrical stages offer another layer to Atelier Avéus' designs, taken out of their usual domesticity and propelled as movie props. Roux explains, 'it blurs even more the lines between cinema and 3D representation by adopting the visual codes of a movie,' leaving us even more intrigued.
Receive our daily digest of inspiration, escapism and design stories from around the world direct to your inbox