Design polymath Gio Ponti celebrated in retrospective at Musée des Art Décoratifs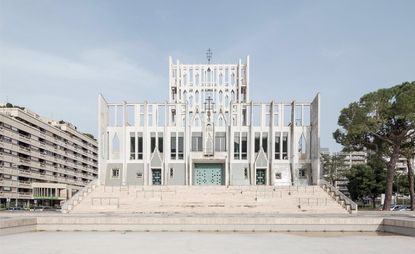 (Image credit: Filippo Poli)
The Italian architect and designer Gio Ponti was one of the creative titans of the 20th century, yet his work's playfulness has, perhaps, led critics to underestimate his importance compared with some of his more po-faced peers. That may be about to change, thanks to a major new exhibition at the Musée des Art Décoratifs in Paris. Titled 'Tutto Ponti: Gio Ponti, Archi-Designer', it's the first French retrospective of his work, and runs from 19 October to 5 May 2019.
Born in 1891, Ponti studied architecture at the University of Milan before setting up his own practice, though from the start he combined architecture and design. In 1923 he became the creative director of Richard Ginori, whose fusty output he transformed, and in 1928 he launched Domus magazine, which he edited (apart from a few years in the 1940s) until his death in 1979.
During a prolific 60-year career he designed skyscrapers and private houses, museums and cathedrals, coffee machines and fabrics, tiles and lighting, wrote books and scripted screenplays.
The 1950s were his glory years. His Pirelli Tower in Milan remains one of the most elegant skyscrapers ever built, while his 'Superleggera' chair for Cassina is still in production today.
The theme of light and lightness runs right through Ponti's work, from his early graphic designs to the facades of Taranto Cathedral, one of his final works, whose sail-like tower resembles nothing so much as a paper cut-out in white-painted concrete [see Wallpaper* June 2018].
In recent years a new audience has rediscovered Ponti's furniture thanks to Molteni&C, which has renewed its focus on the masters of architecture and design since 2010 by re-making pieces from his archive. In the spirit of this re-edition project (which has resulted in the revival of 14 pieces of furniture) and the celebration of Italian design, Molteni&C is patron of the exhibition and is also supplying a number of original items of furniture from the Molteni Museum Collection.
The Paris show will include over 500 objects from public and private collections, some of which have never been exhibited before, including furniture from the Villa Planchart in Caracas, the original model of the Pirelli Tower and a 40-piece Richard Ginori table set designed for Italian embassies abroad. Paris here we come.
INFORMATION
'Tutto Ponti: Gio Ponti, Archi-Designer' is on view from 19 October to 5 May 2019. For more information visit the Musée des Art Décoratifs website
ADDRESS
Musée des Art Décoratifs
107 Rue de Rivoli
75001 Paris