'Fly's Eye Dome' by R Buckminster Fuller lands in Toulouse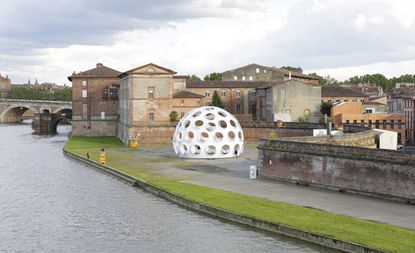 (Image credit: Nicolas Brasseur )
Akin to a giant wiffle ball on the bank of the Garonne River, the 50ft Fly's Eye geodesic dome by R Buckminster Fuller (opens in new tab) is on public view for the first time since 1981. Every spring for the next three years, the futuristic structure will be a highlight of the newly-revamped Toulouse International Art Festival (opens in new tab).
Fuller - visionary designer, inventor, philosopher - conceived the Fly's Eye Dome (the name was his idea) with its cylindrical openings as an 'autonomous dwelling machine'. He planned to make the modular structure into inexpensive, portable housing. With a water collection system and solar panels in some openings, it would be entirely self-sufficient.


By the 1970s he had patented the concept but needed somebody to realise it. John Warren, a California surfer and fibreglass expert, had built his own small domes around hexagons and pentagons, and was selling them as vacation shelters. Fuller ordered one, which Warren delivered to him at his daughter's home. Over tea, Fuller drew a dome with circles on a placemat. 'Do you think you might be able to build this?' he asked.
Warren went back to his shop, brushed up on spherical trigonometry, then assembled a prototype 12ft in diameter. The first person to come see it was Fuller's colleague Norman Foster (opens in new tab), who was on vacation in California. 'Foster reported back [to Fuller] that it was a success,' recalls Warren. Fuller was so pleased by the result, he commissioned two bigger ones. In 1981 he exhibited the 50ft (15m) dome in Los Angeles. But two years later he passed away and the three domes disappeared, stored in a cow pasture in Northern California.
In recent years the two smaller ones found buyers: Norman Foster (the 12ft prototype) and real estate developer Craig Robins (the 24ft version (opens in new tab)). Last year, the Buckminster Fuller Institute started looking for a collector to purchase and restore the 50-foot Fly's Eye dome, by now in serious disrepair. 'It was incredibly important to get it out into the world,' says the Institute's Executive Director, Elizabeth Thompson. They called Robert Rubin, who owns iconic houses by Jean Prouvé and Pierre Chareau, and he immediately accepted, acquiring the dome, together with his wife Stephane Samuel.
Rubin then contacted his friend Jean-Marc Bustamante, director of the newly-revamped Toulouse art festival, and suggested lending it to the event. 'We found an ideal location on the river's edge at Port Viguerie,' Bustamante says. 'It would be at the centre of the festival and also provide a very beautiful symbol: an eye.'
And here it sits, gleaming magnificently with its new coat of high-performance paint in the southern French sun. John Warren was among the Americans who flew to Toulouse to help install it. 'I had done a lot of hard work on it 35 years before, and to see it neglected for that long a time was heartbreaking,' he says. Now, seeing it once again made him 'absolutely joyful'.
ADDRESS
Toulouse Art International Art Festival
France
VIEW GOOGLE MAPS (opens in new tab)