Dubai's new Downtown Design fair and a glimpse at the city's future creative hub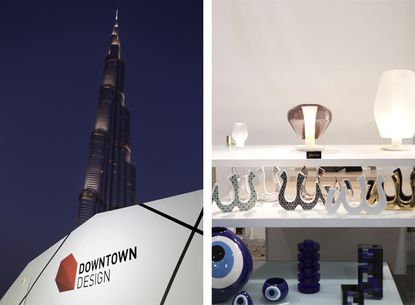 (Image credit: press)
Top global design brands gathered at the foot of Dubai's Burj Khalifa last week for the launch of a new fair, Downtown Design. Sited on a soon-to-be-developed patch of land, flanked by the world's tallest building, the tent's location itself brought home the need for contemporary furniture design in a city where tower blocks (despite the impact of the global downturn) still seem to rise from the sand almost overnight.

'We want to make Dubai a catalyst for design in the UAE and a meeting point for design internationally,' declared Downtown Design director Cristina Romelli Gervasoni (opens in new tab). The fair is the sister event to Art Dubai and design-art showcase Design Days Dubai (opens in new tab) - the latter of which launched in 2012 and has since seen a flock of new design galleries open in the city.
'The proportion people are spending on interiors as part of overall construction is very high in the region,' said Lindsay Miller, managing director of the Dubai Design District (nicknamed D3), an ambitious new development (opens in new tab) of which the first phase is scheduled to open in 2015. 'So the potential for the industry is huge.'

To boost the region's nascent design scene in the meantime, Downtown Design lured in big guns like Vitra, Cappellini, Fritz Hansen, Poltrona Frau and Gaia & Gino, who flaunted their latest collections to local interior designers, architects and furniture distributors. 'The UAE market is growing fast so it's very important for us to meet local company directors,' said Giulio Cappellini.

For seasoned fair goers like ourselves there was little from the international brands that we hadn't seen earlier this year - save for a new leather 'weekender' bag by French designer Pauline Deltour for Discipline we'd like to have nabbed for the flight home. Instead, our greatest prize was the discovery of a new collection by Dubai-based Khalid Shafar (opens in new tab).

The Emirati furniture designer - who collaborated with the Campana brothers at Abu Dhabi Art in 2010 - produced an elegant series of tables and vanity units for the Nouvelle Vague showcase that are a pleasing mix of metal bases, marble tops and camel-leather shelves.

To create his pieces, Shafar worked with Abu Dhabi tannery Al Khaznah and its new division Atelier AK (opens in new tab), which also launched camel-leather upholstered furniture. Said Shafar: 'It's important for Dubai to show what can be exported abroad in terms of design.' This sentiment was echoed by Cristina Romelli Gervasoni. 'Downtown Design needs to be a platform for promoting local as well as international products.'

In reality, Shafar and Atelier AK were more than a little out-numbered at the fair. But, with the launch of the D3, that could well change for future editions. The new development by Tecom Investments is intended to act as an incubator for the region's design and fashion industry, and will offer a mix of studio spaces, showrooms, offices, a convention centre, shops and hotels.

Those of us used to seeing design districts develop organically - be it in London's Shoreditch or Cape Town's Woodstock - may balk at the idea of such a ready-made creative hub. But 'cluster' developments are the specialty of Tecom Investments, which draws on the success of its Media City in Dubai (opens in new tab), based on a similar principle. 'We want the area to be alive 24-7, so that trade visitors can interact with residents,' says Lindsay Miller, who says that occupants of the first phase have been secured. 'Designers will also be able to showcase their work in the hotels.'

Like Downtown Design, D3 will provide a link between local and international makers, manufacturers and distributors, as well as adding much-needed infrastructure. This will be fostered by the recently announced new Design and Fashion Council (opens in new tab), whose international advisory board will be unveiled this year. 'The Council will be very important to the industry,' Shafar told us. 'We need a committee who can represent us and create opportunities, in a similar fashion to the how the British Crafts Council promotes design overseas.'

The impact of the council and the new design district is almost impossible to predict. But at the rate Dubai is developing, the opportunity is obvious. For now, it's largely the international brands that are seizing the day. But Downtown Design - and the Dubai design industry as a whole - could be a different game in a few years time.