Doshi Levien bring India's everyday objects to life in a new exhibition at Grand-Hornu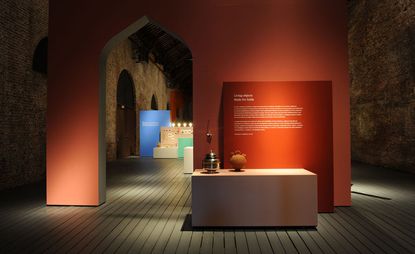 (Image credit: Michel De Cubber)
Europalia, a biennial arts festival with a focus on the cultural heritage of individual countries, is turning the spotlight on India for its 24th edition. Key to the program is the 'Living Objects: Made for India' exhibition at Grand-Hornu, for which UK-based design duo Doshi Levien have brought everyday artefacts from the sprawling subcontinent to Belgium.

Husband and wife team Jonathan Levien and Nipa Doshi (opens in new tab) met while studying furniture design at London's Royal College of Art, forming their design studio shortly after graduating. Born in Mumbai, Doshi's work is influenced by Indian visual culture and craftsmanship. Meanwhile, Levien - who hails from Scotland - draws on a more traditional industrial design background. It was their unique blend of intercontinental design sensibilities that made them the gallery's first port of call to realise the exhibition.

'The first question I asked myself was: whose "everyday" is it?' explains Doshi. 'But I think it's impossible to typify India with one person, cliché, religion, or economic level, because everything truly co-exists together.' So, rather than try to pinpoint particular types, Doshi has drawn heavily on her own upbringing to collect, collate, and categorise a myriad of domestic paraphernalia ranging from tableware to kitchen utensils, gardening tools, religious decorations and bathing accessories.

Even the most banal objects, many of them handcrafted by untrained designers, are imbued with an exquisite visual power that is often unintentional. There's plenty to uncover among the plethora of strange curios: a delightful neon pink rubber hammer; a motorcycle helmet that wouldn't look amiss in a sci-fi film; a plastic bottle for 'Sandoz' calcium tablets (opens in new tab) moulded into a woman's face; and the beautiful, bespoke scissors made to order by local craftsmen.

'What struck me most about living in India is the sensuality of everyday rituals,' says Doshi. 'This is deeply rooted in the Hindu belief that any gesture that is done in a beautiful, caring way can lead to wisdom and to God, creating a real rhythm in how people do things, even for simple tasks such as making a bed or laying a table.'

This musing is further echoed in the layout of the exhibition, which systematically groups the objects by their function, neatly arranging them atop colourful bazaar-inspired plinths. The entrance of the show is loosely modelled on a government building, with a selection of bureaucratic articles on show, progressing to grooming knick-knacks, religious tokens, followed by the hefty eating and cooking displays, and finally concluding with a section on cleaning – an important ritual in Indian culture.

At the heart of the exhibition lies India's plurality. By showcasing these everyday objects, 'we open a door or a window into another person's world,' Doshi concludes.
ADDRESS
Grand-Hornu Images (opens in new tab)
Rue Sainte-Louise 82
B-7301 Hornu
Belgium
View Google Maps (opens in new tab)