Weird & wonderful: the Dirty Art Department's experimental school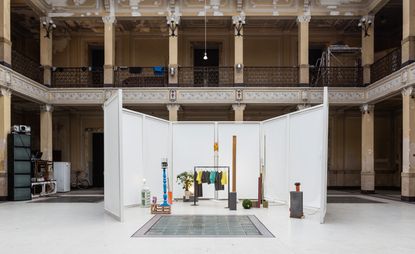 (Image credit: Delfino Sisto Legnani)
Of the many riveting installations that took place at Salone del Mobile, 'The Wandering School' proved to be one of the most intriguingly alternative, as students and graduates of the Dirty Art Department bought their unexpected idiosyncrasies to Macao, an abandoned former slaughterhouse.

Known for their sometimes outlandish works, the Dirty Art Department is an MA program at Amsterdam's Sandberg Institute, that brings multiple strains of creativity to the table. Bringing their wildly individual and often absurd aesthetics to Milan, 'The Wandering School' was an ongoing performance, made up of multiple installations during the week (day and night), and described as 'a place to sleep and dream, reflect and rave in'.

The exhibition started way before Salone as well; 'Daily Solo Show' by Kitty Maria and Alban Karsten comprised a selection of interactive installations taking place in the lead up to the fair's opening. This was a social investigation of how to counteract the tumult of tiredness and exhaustion during the set-up of the show itself.

The theme of examining real life situations via the Department's idiosyncratic methods continued throughout the programme. The Department's installations touched on everything from current social fads – as evinced in 'Love Me Tinder', a night for Milanese singles – and a coding workshop exploring the often insalubrious 'darknet', to others focussing on ecology, poetry, digital media and music.

Set on a balcony in the ruined space, Anna Reutinger's booth 'Real Talk' acted as a real life confessional room, adorned with a rather abstract and fleshy interior, creating an environment both intimate and uncomfortable. Meanwhile, over in the dark basement, Rachel Rose O'Leary and Petros Orfanos examined the architectural qualities of objects we dismiss (ie, rubbish).

For those who wished to be fully immersed in the show, overnight options were also available at 'The Wandering School Hotel', by Carole Cicciu – a nod to the city's inevitable lack of accommodation during the fair. The 17 night residency (with a minimum booking of three nights) offered up an eclectic range of room design options, from the 'The Wall Room' by Erasmus Scherjon and Theo Demans – with a feature hole in the wall – to the hostel style 'Seize' room, a 16-bed dorm in the building's attic.
INFORMATION
For more information, visit The Wandering School's website (opens in new tab)
Photography: Delfino Sisto Legnani