Dimore creates 3 sensorial installations for Salone del Mobile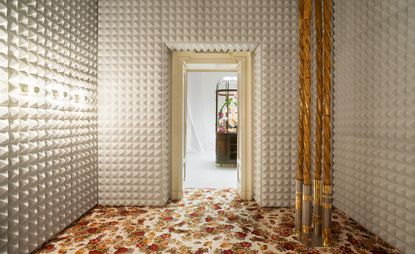 (Image credit: Andrea Ferrari)
Stepping into Dimore Gallery always promises a sensorial escape and one of the unmissable highlights of Fuorisalone, as the queues snaking up the stairs of Dimore Gallery in Milan's Brera design district attest. But for 2018 the duo – Britt Moran and Emiliano Salci – have excelled themselves, creating three separate installations with their neighbouring Studio also open to the public and the takeover of an additional ground floor shop at Via Solferini, 22.

'The idea was to separate both realities of the Gallery and the Studio,' explained Moran over a glass of chilled water, surrounded by a collection of bright tubular Sixties furniture by Italian architect Gae Aulenti on the Gallery terrace. 'For 'Transfer' we created five different worlds though a series of tents created from fabric which we've produced with de La Cuona. Each tent houses pieces from our historical collections combined with intimate objects and some of our personal things.' In addition to this there are two simple display rooms with the best of their archive pieces.
The concept has echoes of Dimore's (Un)Comfort Zone at London's Mazzoleni gallery, for which the pair staged a series of enclosed rooms viewed via window-like apertures. Here the tents occupy the centre of rooms with visitors navigating a darkly lit perimeter to peer in at the carefully staged compositions through 'windows'. 'Each room has its own atmosphere and world, says Moran, 'so there's the Silk Road traveller, the Séance room, the Italian camping scene, the French Riviera beach scene and the finale we're calling the Arab harem.'

Every space also has its own distinctive scent and soundtrack, the latter compiled by Salci who Moran points out is 'very good at doing everything'. In response to constant requests about their compelling soundtracks, Dimore have documented this alongside descriptions of the pieces on display. So for example viewers of the Lido Alvaro tent, which features Finnish, Swedish and Italian pieces by Alvar Aalto, Pietro Chiesa and Achille Castiglioni, are serenaded by two 1962 tracks: Lolita Ya Ya from the film by Nelson Riddle & His Orchestra and Francoise Hardy's Le temps de l'amour. Meanwhile, the dark tones of Vincent Price's Witchcraft Magic set a macabre mood to the 'voodoo séance' tent.

Their nearby studio Perfettamente Imperfetto installation presents the contemporary collection. 'We pared everything back with just one object per room to be very exhibition and museum-like.' It's still very Dimore. A grey foam-lined corridor complete with a chintzy carpet leads to rooms lined with billowing white parachute silk. 'The idea was to put everyone into a cocoon-like incubator space, where everything else is drowned out, which is very nice given the hustle and bustle of the week,' he adds.
A crane was commandeered to lift in the first exhibit, a large antique display case which showcases smaller objects surrounded by an abundance of silk flowers. Again the soundtrack plays a part, building in each room until it reaches a crescendo for the Arachnid-inspired floor lamps, a homage to Louise Bourgeoise, 'because we always like to dip into art and fashion for our collections,' says Moran.
'Limited Editions' occupies a nearby vacant shop, described by Moran as 'a top secret project by Emiliano' it consists of new works created from deconstructed 18th- and 19th-century vintage pieces. 'The wood is really incredible in these antique pieces but the furniture itself is a little too cumbersome. So this year he decided to reassemble them into new designs where you have the beauty of the wood patina, but in a contemporary way.'
Presented in a misty atmosphere (an effective last minute addition), the information on the collection flickers in green digital text on a stack of vintage televisions and yet again, the soundtrack – Angelo Badalamenti's haunting Falling, (the Twin Peaks theme tune) – sets an enigmatic, filmic mood. Which is surely the next step for the duo? 'We'd love to do set designs for films, our gallery is already like that, but they're not knocking on our door yet,' says Moran.

Until Hollywood wakes up to their talents then it's business as usual with a 3,200 square metre members club in Dubai next on their agenda.
INFORMATION
Transfer, Dimore Gallery and Perfettamente Imperfetto, Dimore Studio, Via Solferini 11 and Limited Edition at Via Solferini 22 are open from 17th-21st April, 11am-8pm. For more information visit the Dimore website
Receive our daily digest of inspiration, escapism and design stories from around the world direct to your inbox