Hothouse greens: designer Boe Holder's mini plants are one hot item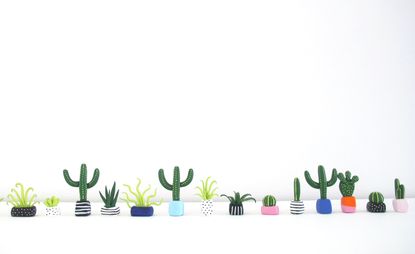 (Image credit: Boe Holder)
At Central St Martins, Boe Holder took one of the most academic tracks the school offers, studying fashion history and theory. After graduating, the London artist discovered that the fashion industry wasn't for her. She took a detour into whimsy, and has been leading with designs that bring her joy ever since.

Of late, her hand-painted polymer clay plants have been literally selling out through online gallery Uprise Art, which we recently highlighted as part of NYCxDesign. Geared toward new collectors, Uprise Art offers free art advisory sessions and emphasises offerings under $800 (£546).

The popularity of Holder's miniature plant sculptures took her by surprise: 'I made them for myself, but they ran away with me– I can't make them fast enough.'

They come in sets of five, in their own tiny pots, and run the full gamut from droopy to alarmingly perky. Names like 'Flapjack', 'Dumpling' and 'Hey Babe' may seem incongruous until you find out each set is named after one of 2,000 odd varieties of cacti.

'They're quite childlike, not in a bad way I hope,' says Holder, adding that people seem to gravitate toward miniature things. It also helps that plants and succulents are irrefutably on trend, and you can't kill Holder's.

The artist also sells through her own website, This Way To The Circus, inspired by a 1950's print of circus animals in her childhood bedroom. Her online shop mixes Sol LeWitt-like hand-painted terracotta pots with manufactured pins and notebooks based on her plant drawings. An unexpected delight is a cache of vintage animal erasers – old shop stock that her mother stumbled upon on a Mediterranean island.

Holder's latest is a collection of jungles for Uprise Art employing the same Seussian aesthetic, though slightly less miniature. So you can point to Holder next time someone tells you 'happiness' is not a life plan.