Daan Roosegaarde's Space Waste Lab launches into orbit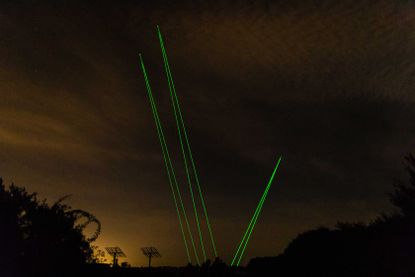 (Image credit: Daan Roosegaarde)
Since establishing his design studio in Rotterdam a decade ago, Daan Roosegaarde has created energy-neutral street lighting, energy-generating kites, an on-demand aurora borealis to illustrate the threat of rising water levels and, most famously, a smock-sucking tower. His latest mission is to dam or divert orbiting streams of space trash; 29,000 satellite bits and rocket pieces which, if left unchecked, threaten to block escape routes out of the earth's atmosphere. Or at least wipe out your wi-fi for a good while.
On 5 October, his studio launched Space Waste Lab, the first move in a long-term effort to take down, or better up-cycle, as much of this orbital junk as possible. To kick-start a space waste expo and symposium, Roosegaarde and his team set up camp at the KAF cultural centre in Almere in the Netherlands and aimed high-powered LEDs at scrap metal orbiting at altitudes of anywhere between 200 and 20,000 kilometres (they had spent a year-and-a-half working with space agencies to developing tracking technology and obtain the requisite safety approvals).
This spectacular light-show, with monthly repeats through to January next year, is an effort to illuminate and pin-point just one per cent of the space trash more than 10 cm long (pieces much smaller than this, some travelling at a speed of 25,000 kmh, can also cause catastrophic damage to satellites but they are almost impossible to map).
The three-month-long space waste expo, put together with advisors from NASA and the European Space Agency, includes workshops or 'living labs'. Amateurs and professionals, scientists and schoolchildren, alike are encouraged to come along and throw in their own ideas and suggestions.
'We need to look at space in a better way,' says Roosegaarde. 'What is space waste, how can we fix it, and what is its potential? Can we use space waste as a source material to 3D print houses on the moon, or use it to create artificial falling stars opposed to polluting fireworks?'
ESA Director Franco Ongaro has worked with Studio Roosegaarde in developing the Space Waste Lab. 'I'm a strong believer in cooperation between technologists and artists,' he says. 'We believe in what we do as a service to society, but we are often unable to communicate its worth effectively enough. Artists not only communicate vision and feelings to the public, but help us discover aspects of our work which we are often unable to perceive. This cooperation is all the more important when dealing with issues like space debris, which may one day impact our future, and our ability to draw maximum benefits from space. We need to speak in different ways, to convey not just the dry technological aspects aspect of technology, but the emotions involved in the struggle to preserve this environment for future generations.'
Watch Space Waste Lab in action
INFORMATION
For more information see the Studio Roosegaarde website
Receive our daily digest of inspiration, escapism and design stories from around the world direct to your inbox