COS announces architect Arthur Mamou-Mani for Salone del Mobile collaboration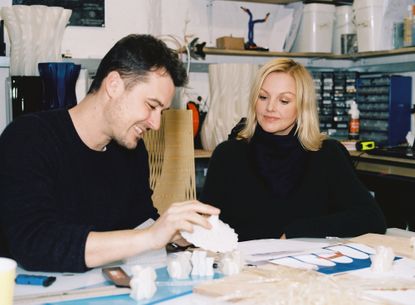 (Image credit: TBC)
COS pairs up with Arthur Mamou-Mani for its next Salone del Mobile project in Milan. The French architect follows the likes of Studio Swine, Sou Fujimoto, Phillip K Smith III and Snarkitecture, who have all realised immersive environments for the fashion brand during the design event.

The architect is set to create a digitally fabricated pavilion that will guide visitors through the courtyard of a 16th-century palazzo and into the surrounding gardens. Having presented one of the most Instagram-friendly offerings of last year's Milan Design Week – a mirrored collaboration with artist Phillip K Smith III – COS returns to Palazzo Isimbardi, but this time taking a slightly different approach.
Working alongside architect Mamou-Mani, who heads up his own practice in London, COS will present a forward-thinking pavilion that aims to push the boundaries of digital fabrication, while showcasing the capabilities of renewable materials.

Mamou-Mani's design will be created using open-source parametric design software. Each module will be made from a bioplastic and will be shaped through an algorithmic process that ensures structural stability, while also optimising the amount of material needed.
'It will be something futuristic and impactful, using imperfection from materials,' said Mamou-Mani at the announcement event in Milan. 'It's everything I believe in.' Mamou-Mani's practice has become known for pushing the boundaries of digitally fabricated architecture, a feat which saw the young designer named RIBA's Rising Star in 2017.
'We spend a lot of time on research and taking inspiration from art and design,' explains COS' creative director Karin Gustafsson. 'Lately, we've found that the process, material and work method is the most exciting part [of a project], and that's why we're working with Arthur.'

COS will present the pavilion (yet to be titled) during this year's Salone del Mobile, which takes place from 9-14 April.
INFORMATION
The pavilion will be on view 9-14 April during Salone del Mobile. For more information, visit the COS website
ADDRESS
Palazzo Isimbardi
Corso Monforte, 35
Milano MI
20122