Living room furniture by Chiara Andreatti marks Fendi's tenth foray at Design Miami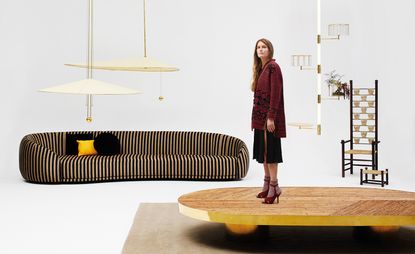 (Image credit: Alberto Zanetti)
Chiara Andreatti with some of the pieces she designed for Fendi's 'Welcome!' collection, including, from right, a sofa upholstered in the same pattern as Fendi's iconic 1970s shopper; Japanese-inspired pendant lights; a Himalayan wool carpet; a bamboo and brass coffee table; a plant stand with brass inserts; and a wooden throne and footstool that pay homage to the Viennese secession style. Andreatti wears shirt; skirt, prices on request; boost, £820, all by Fendi. Interiors: Dimitra Marlanti
The curator Maria Cristina Didero believes the living room to be the most cherished space of any household. 'It's where guests are welcomed – a place of openness, relationships and intimacy.' Renewing her partnership with Fendi for its tenth presentation at Design Miami, Didero has commissioned a suite of living room furniture, aptly and simply titled 'Welcome!'.

The designer called in to interpret the concept is the Veneto-born, Milan-based Chiara Andreatti. The north-Italian countryside, which she passes through regularly when travelling to her family home, has stamped itself on her imagination. And the ideas of countrified luxury and rarefied elegance underlie the collection she has developed for Fendi – along with a host of inspirations including the enlightened middle class of the 1970s, the designs of Gabriella Crespi, and the cultivated exoticism of pioneering female adventurers of the early 20th century. At the same time, Andreatti has drawn on many elements of the Fendi universe – materials, colours and craft – and transferred them from fashion to domestic design.

These are more than just decorative details, being an integral and in some ways crucial part of the project. This is made clear in the 4m-long sofa, upholstered in the same black and tobacco pattern as the brand's iconic shopper from the 1970s, and an apparent allusion to the work of Viennese architect Josef Hoffmann. 'It's a velvet version of the classic "Pequin" fabric from Fendi, which is a jacquard,' explains Andreatti.
The rest of the collection is developed around this inviting centrepiece. It includes large Japanese-inspired pendant lamps (or 'ladies' hats', as the designer describes them), ceramics that riff off primitive and classical forms, and two thrones that pay homage to Koloman Moser, a founder of the Vienna Secession. Each item is developed in a different style, in recognition of Andreatti's various passions – for the Orient, handcrafting and natural materials, graphic patterns and decoration – or her tenaciously cultivated classical touch. Yet the seemingly disparate pieces come together as an articulate whole, a testament to the designer's elegant hand.

Archival graphics devoted to the selleria leather stitching technique, another Fendi classic, adorn two carpets made of natural Himalayan wool. Its contrasting shades are achieved by using wool from different breeds of sheep, and punctuated with ochre yarn, a recurrent motif in the Welcome! project. 'Seen from above, the pattern is that of a panel in my archive, with the points forming an abstract sunburst and geometric partitions,' says the designer. Pattern is also key to the bamboo coffee tables, which nod to Fendi's 1970s fur coats and their unmistakable slanting cuts. They are made by one of the last craftsmen in Brianza still capable of manually heat-bending the canes. Each tabletop is set in a bright brass frame as if to heighten its rustic effect.

In another exquisite, old-fashioned touch, two imposing thrones have been given seats and backs of hemp yarn, dried and worked by hand. They are flanked by a single, small footrest: a charmingly asymmetrical feature in the balanced composition of the living room. The spheres that complement the armrests and the seatback of the two imposing chairs echo the brass flourishes on the butter-white pendant lamps. In contrast, the rocking chair is crafted in burnished iron, while its seat cushion and adjustable headrest in Roman leather, a Fendi speciality.

A collection of white ceramics is embellished with organic ridges and brass inserts, while a series of jardinières are cast in ultra-light, biodynamic concrete, their whiteness enhanced by their repeating geometric forms. A unifying feature of the collection is a love of the outsize. 'It's an optical effect I worked hard to achieve,' says Andreatti. 'And it sums up what I felt when I went to the new Fendi HQ at the Palazzo della Civiltà. Viewed at a distance, the 54 arches in the façade look normal, almost domestic in scale. But then, close up, you see how huge they are, and you feel tiny by comparison.' Like the Palazzo della Civiltà, Andreatti's collection is more impressive in person – at Design Miami, one only has to sit on her couch or throne to feel welcomed by something great.

As originally featured in the December 2017 issue of Wallpaper* (W*225)
INFORMATION
The 'Welcome!' collection is at Design Miami (opens in new tab), 6-10 December. For more information, visit the Fendi website (opens in new tab) and the Design Miami (opens in new tab) website (opens in new tab)