Design Directory 2021: a curated hallway
Welcome to the Wallpaper* Design Directory 2021, our edit of inspiring new furniture for every room. Here is our edit of hallway furniture, including discreet seating, hallway panelling, practical storage and coat racks to make a grand entrance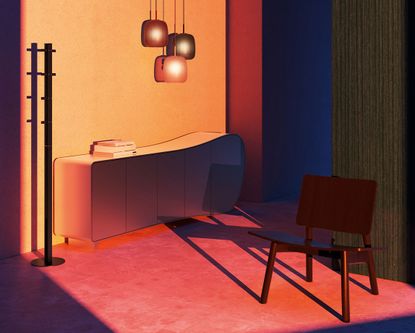 (Image credit: TBC)
Wallpaper* Newsletter
Receive our daily digest of inspiration, escapism and design stories from around the world direct to your inbox
Thank you for signing up to Wallpaper. You will receive a verification email shortly.
There was a problem. Please refresh the page and try again.
Make a grand entrance with our edit of hallway ideas that range from practical sideboards and coat racks to chairs, lighting designs and hallway panelling. The Wallpaper* edit of hallway furniture is part of the 2021 Design Directory – our annual pick of inspiring new furniture for every room of the house. Come on in...
Hallway panelling
'French Palette' hallway panelling, by Piero Lissoni, for Alpi
Our hallway panelling takes inspiration from French painting of the early 1700s. Alpi's sustainably sourced poplar panels come in a palette of soft but forceful tones, with hints of evergreens and more refined nuances like teal blue and burgundy.
Price on request
alpi.it
Cabinets, shelving and coat racks
'Tower' coat rack, by Kim Giseok
The shape of this minimalist coat rack, by Seoul-based designer Kim Giseok, depends on how many steel bars you choose to add to it, allowing its user to play with its appearance and function.
KRW580,000 ($515)
mmmgiseok.com
'Hard Whale' cabinet, by Xavier Lust
With a shape that recalls the ocean's largest mammal, this sculptural aluminium cabinet, by Belgian designer Xavier Lust, sports a patina that evokes the reflection of the sea on the skin of a whale or clouds on a stormy day.
Price on request
xavierlust.com
'Hide & Seek' shelving unit by Pietro Russo, for Gallotti & Radice
The 'Hide & Seek' shelving unit, designed by Pietro Russo, is part of Gallotti & Radice's new 2021 collection. This lacquered wood cabinet is made up of stacks of compartments laid out in three columns, with or without rotating cylinders that allow the closing of some compartments. The unit comes in three sizes, available in either glossy or opaque Persia red or London grey, and some come with satin brass details within the cylindrical niches, like miniature balconies, to protect items from falling.
£2,820
gallottiradice.it
'Mi' cabinet, by Neri & Hu, for Poltrona Frau
When approaching their latest piece for Poltrona Frau, designers Lyndon Neri and Rossana Hu were inspired by the Chinese word 'mi' (which, depending on context, can mean 'looking' or 'secret') and, as such, wanted to create a piece that would semi- obstruct the view of whatever is being stored inside. The 'Mi' cabinet makes use of a luxurious material palette, including hand-stitched saddle leather, burnished brushed steel, tempered glass, marble and solid walnut, which all come together to create a surprisingly minimal piece of furniture.
From £12,700
poltronafrau.com
Hallway lighting designs
'Maluma' pendant lamps, by Fumie Shibata, for Fritz Hansen
Available in delicate rose, deep plum and earthy moss, this lamp, made from hand-blown frosted glass, with a matching suspension, gives both soft ambient light and functional downlight from its open base.
From £288
fritzhansen.com
'Le' lights, by Örn Duvald, for Åben
Danish-Icelandic design duo Örn Duvald set themselves the task of creating the most 'simple, elegant and versatile wall light possible'. The pair benefit from a cross- disciplinary set of skills across architecture, design and art practices, and all were drawn upon in order to fulfill the brief. The lights, which are available in two sizes, in chrome, blue, white and terracotta, are made from steel that has been seamlessly fused at their joints, while the dimmable LED bulbs cast light that reflects off the wall, creating a soft, indirect glow.
From £490
aben.as
Seating
'Hiroi' lounge chair, by Cyril Dundĕra and Matĕj Janský, for Cappellini
This compact, minimalist armchair, by Czech designers Cyril Dundĕra and Matĕj Janský, features a structure in stained black solid ash wood with a seat and backrest upholstered in leather, available in a choice of five different colours.
€1,450
cappellini.com
'Pacific' armchair, by Patricia Urquiola, for Moroso
Spanish designer Patricia Urquiola is a longtime Moroso collaborator. For her 'Pacific' collection for the brand, which features a sofa and an armchair, she wanted to create pieces that felt cosy and intimate. Taking cues from the relaxed atmosphere of the American West Coast, the rounded, oversized 'Pacific' armchair makes use of a curving backrest that aims to wrap the sitter in a protective cocoon. Soft, woolly upholstery was chosen to further add to its tactility, and is available in either bouclé, wool or velvet.
From £1,990
moroso.it
'Wave' bench, by Lanzavecchia + Wai, for De Castelli
The act of arriving home is taken to a ritualistic level by Lanzavecchia + Wai with the 'Wave' bench. It's based on a shoe bench, which the design studio describes as a 'quintessential' piece of Asian furniture, given the custom of removing shoes before entering the home. The bench incorporates space to sit down and store bags and shoes, as well as a pocket emptier plate, and it has been made from copper, which has intentionally been left untreated so that it will age and reflect the routines of its users over time.
€12,300
decastelli.com
Receive our daily digest of inspiration, escapism and design stories from around the world direct to your inbox