How BaseCamp is solving the student housing crisis in style across Europe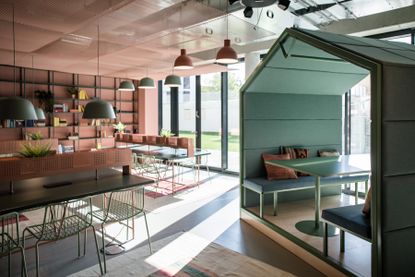 (Image credit: basecamps)
BaseCamp began as a response to the lack of interior design-led student housing across Europe. Founder and CEO Armon Bar-Tur envisioned a merging of American community-focused living and European aesthetics with interior design and amenities. The first location, opened in the heart of Copenhagen in 2016, is situated in a historical building – formerly the living quarters of the Danish Royal Guards – so structural renovation was limited.
The latest location is in the west German city of Leipzig, close to the University of Leipzig, and here BaseCamp could build the space from the scratch. They enlisted Berlin-based industrial designers Studio Aisslinger for the interior that includes amenities such as a gym, laundry room, and cinema. The studio has created multi-functional and streamlined living spaces that cleverly incorporate built-in storage. The style is kept modern with splashes of colour in key areas, while remaining minimalist at the same time to produce calming and cosy private spaces that equally encourage community-oriented activity.
'[It's] a deep dive into colour-blocking and graphic abstracts,' describes Studio Aisslinger of the dynamic space. 'A reinterpretation of Optical Art is in dialogue with the plain coloured furniture'.
There are 385 rooms, ranging in size from 19 sq m (€495/month) to 27 sq m (€595). These prices are aligned with a room or studio rental in the city. Some rooms include kitchenettes, and there are a number of rooms with extra accessibility available to cater to all.

Student housing has often been a forgotten endeavour in Europe, with buildings converted to university use without considering the needs and desires of students. BaseCamp aims to change that by designing spaces with students in mind, both in terms of facilities and aesthetics. They join other ambitious student housing projects around Europe, including Urban Rigger's collaboration with Bjarke Ingels Group in Copenhagen.

In addition to Leipzig, BaseCamp is currently in Copenhagen, Potsdam, and Lodz. With rents ever-increasing across Europe, it's vital that student housing becomes more available; BaseCamp has found a way to do this while having high quality amenities and clean design aesthetics at its core.
INFORMATION
For more information, visit the BaseCamp website (opens in new tab)