Artist and designer Ramdane Touhami on judging the Wallpaper* Design Awards 2017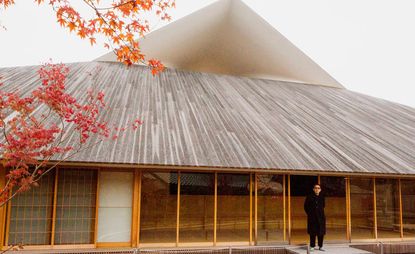 (Image credit: Yasuyuki Takagi)
In 2014 Ramdane Touhami reimagined a redundant Paris perfumery as Buly 1803, with his wife, Victoire de Taillac. Ever the gypsy (his words, not mine), the French-Moroccan designer has now pitched his tent in Tokyo, preparing for the opening of Japan's first Buly 1803 shop. Judging by his early sketches of the interior for the new store in swanky Daikanyama, it's a modern/classic hybrid that, like the spaces in Paris, London, Seoul and Taipei, is sure to awe. Two more Tokyo stores are planned to open in Ginza and Roppongi later this year.

Many of the beauty brand's accessories are made in Japan and I ask what he thinks of the quality of the country's manufacturing. 'It's great. But, to tell you the truth, it's a lot of work too,' he says.
It's not the first time Touhami has lived or worked here. From 2000 he was employed at Japanese fashion company Sazaby, thinking up new concepts and ideas, but after only a year he tired of corporate Japan and moved back to Paris. 'I missed Japan though,' he says. 'I started to come back, but then I was flying in and out about eight times [a year] and thought it might be time to move here with my family.'

After being shortlisted in the 2015 Wallpaper* Design Awards (W*191), Touhami was pleased to take part as a judge this time around. He voted for the 'Supersonic' hairdryer by Dyson as Best New Grooming Product, explaining: 'I bought the hairdryer for my daughter even before my test sample arrived. I simply love the way it's designed and how it works.' When I ask if he uses it himself, he laughs and pulls off his hat to show me his 3mm crew cut.
His vote for Naoshima Hall (above) as Best New Public Building was out of pure love for the architecture and the island itself. 'I simply love the fact that such a beautiful building has been built in such an inaccessible place. How come this small village has this kind of amazing building?' he says. The attention to detail and the quality of the craftsmanship that has gone into the building is another reason: 'If you look at every detail, every shape of the door, everything, it's just perfectly done.' 

As originally featured in the February 2017 issue of Wallpaper* (W*215)
In this film, watch as Touhami explores the Naoshima Hall and why it won his vote in the Design Awards...
INFORMATION
See the shortlist and the winners of Design Awards 2017 in full here, including our extra-special Judges' Awards