Ana Arana's tiny kitchen wins over ICFF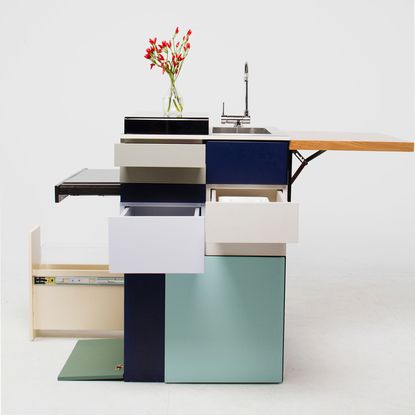 (Image credit: Antonio Guzman)
Tiny kitchens rarely get shown off as assets in houses or apartments. But maybe if they were designed as well as the Gali system they would. Created by Madrid-based designer Ana Arana, the Gali is a portable micro kitchen that packs a refrigerator, a toaster oven, a sink, a stove, a garbage can, a countertop, and multiple drawers into a block that takes up only nine square feet, all while looking incredibly sleek.
Arana presented Gali as part of the International Contemporary Furniture Fair (ICFF) during NYCxDesign (opens in new tab) Week. She was one of 11 designers selected from 5 countries in the ICFF Studio Competition, and the only winner to design a piece of kitchenware. Arana drew the inspiration for Gali from her own living experience. As she told Inhabitat (opens in new tab), 'I live alone in a very small apartment but my kitchen is huge, and I'm always thinking why is there was so much space wasted in something I don't use so much? And I did research and realised that the kitchen hasn't changed a lot since the first kitchens designed after the first World War, so now I think it's time for a change.'
With its clever, Swiss Army knife-like design, Gali just might be the kitchen of the future. After all, who doesn't feel like they could use more room in their apartment? Arana's prototype cost her about 2,500 Euro (about $2,800) to make. She hopes that, with the help of a manufacturing partner, Gali kitchens can hit the market soon.
This article originally appeared on Food & Wine