ICFF 2009 report, New York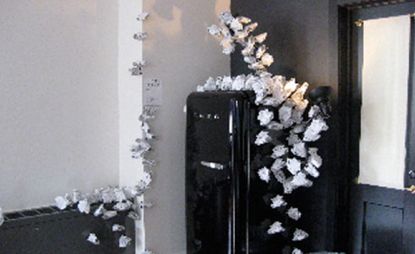 (Image credit: TBC)
Wallpaper* Newsletter
Receive our daily digest of inspiration, escapism and design stories from around the world direct to your inbox
Thank you for signing up to Wallpaper. You will receive a verification email shortly.
There was a problem. Please refresh the page and try again.
The rumors about this year's ICFF started long before they usually do. Bernhardt Design had canceled their usual blowout. So had Metropolis. The party invitations came, but they weren't as embossed, heavy, numerous. Some companies were scaling down their booths, and others—it was whispered—just weren't going to come. The mood was apprehensive leading into the weekend and the fair itself felt much more muted and somber than years before but, as always, design—some of it at Javits, some of it sprinkled around the city--prevailed.
See Eva's highlights at this year's New York ICFF
It was a themeless year, full of isolated pockets of excitement, but without any overarching connective tissue, which makes highlights more of a laundry list and less of a trendspot. So, to begin, because we're suckers for a sure thing, we checked in with last year's up-and-comers first. Design Glut, the Brooklyn-based collective run by Kegan Fisher and Liz Kinnmark, introduced the Dow Jones Hanky—a handkerchief embroidered with a graph of the falling Dow—and the Candlestrip, a candelabra that looks like a power strip, the candles supported on plug-shaped bases.
Test Collective—LA-based Chris Adamick and Brooklyn-based Piotr Woronkowicz—rocked out with the Fun Box, a coffee table that turns into a skateboard; Volume, a slat-topped table perfect for storing and displaying retro records; and the Clic stool for Arktura, a shiny triangle of deceptive simplicity. Both Design Glut's and Test Collective's work oscillates between the obvious and the intriguing, between function and commentary, and, we have to say it, between design and art.
Hipster collective Areaware introduced two bikes—the fold-up IF Mode by Mark Sanders, Michael Lin and Ryan Carroll, which was excellent (although fenderless, as a fellow enthusiast pointed out), and the van Moof, designed by Amsterdam-bsaed Sjoerd Smit and housing two solar-powered LED lamps.
We saw Brooklyn-based furniture makers' Uhuru's new table, constructed of a massively split wood top connected with artificial x-braces that spoke of the craft of construction and the trickery of design, and reveled in Shimna's locally-sourced woodwork. For a touch of the handmade, we liked Red Hook artist Amy Helfand's Nepal-influenced rugs, and Lindsay Adelman's blown-glass chandelier.
UK designers Sono introduced the cannlamp and the colourclock, both small pieces with a lot of personality, and Netherlands-based designers bert&dennis were a big ICFF Studio—Jerry Helling of Bernhardt Design's annual competition—hit with their bright green "fold" chair. Christian Mitman's Panelite booth was an example of the wall panel company's range—everything from a test slab for a Winka Dubbeldam design to a construction produced for ultra-corporate HOK, and Minnesota-based Blu Dot introduced a simple wood-support lamp.
ICFF's reach always expands far beyond Javits and this year was no different.
Writer-turned-editor-turned-curator Monica Khemsurov was the brains behind McMasterpieces, a show of design work produced entirely out of materials sourced from the architecturally biblical McMaster-Carr catalog. LA-based furniture designer Reza Feiz of Phase Design, meanwhile, leaned optimistically into the future with his Barcelona-riffing 'Italic' chair.
Last year's ICFF favorite Todd Bracher designed a Stick Lamp constructed from hacked flashlight LED's and Lindsay Adelman appeared again with a stunning art installation created out of folded-up pages of the catalogue itself. Held on the eighth floor of the brand-new Roman & Williams-designed Ace Hotel, McMasterpieces was a reminder of the whole point of these types of events, and a chance to see that the designers who get success with massive companies often do so because of their massive creative force.
The American Design Club exhibited work by young designers like Henry Julier—whose magnetic and movable Magneto shelves appealed to our inner X-Men and ingenious-design fan—and the Rich Brilliant and Willing trio whose Excel Lamp is a fantastic study in form and tension. Dan Rubinstein and Jen Renzi's InDisposed show was another offsite hit, and included pieces by Takeshi Miyakawa (another 2008 discovery), Situ Studio, and wildchild Tobias Wong. The kicker? Every piece was designed to be "ceremoniously recycled, upcycled, composted, or otherwise responsibly disposed of."
It's a fitting close to this year's report, and we'll sign off to continue our search for Pratt student Rebecca Marshall's Paper Bailout Bag, a messenger tote made from oiled, heat-pressed, and crumpled paper bags. The piece looks impossibly and inconceivably fragile, but it's remarkably resilient. Just like design.
Receive our daily digest of inspiration, escapism and design stories from around the world direct to your inbox