Against the grain: Nicolás Aracena Müller's wood sculptures take over Chamber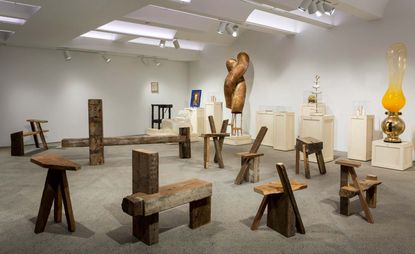 (Image credit: TBC)
For its latest installation, Atalaya, the New York design gallery Chamber turned to the Chilean architect and carpenter Nicolás Aracena Müller to produce a seating collection—and, in a theatrical twist, to construct the pieces in the gallery's space itself. Over a ten-day stint, Müller set up (work)shop in Chamber's front window, first building a tool wall to organize his instruments and then a stool on which to do his work, all before getting to the main event: producing a collection of nine objets d'art that serve as functional seating.

Chamber, which is tucked under the High Line's busy 23rd Street entrance in Chelsea, remained open during the process, allowing passersby to observe and interact with Müller as he went about his work. "Most people came in thinking the gallery was under construction," he laughed.

Unlike the noble material palettes used in most design collections, Atalaya is comprised entirely of reclaimed wood that Müller scavenged on a van tour of New York City. Müller filled the back of the gallery with a trove of debris, transforming each, piece by piece, into unique works of functional art. He limited himself to using only a few hand tools, piecing together each part with glued dowel joinery and other carpentry joints. "That took me two days just to cut," he said, pointing to the collection's biggest piece, made with beams almost 40 cm thick.

The collection is part of Chamber's 'Capsule' series, temporary installations set amidst its longer-running 'Collection' series, the next iteration of which, set to open this fall, will be guest-curated by photographer Andrew Zuckerman.
ADDRESS
Atalaya is on view until 12th September at Chamber
515 West 23rd Street