A beacon for Brazil: Chelles & Hayashi unveil Rio 2016 Olympic torch design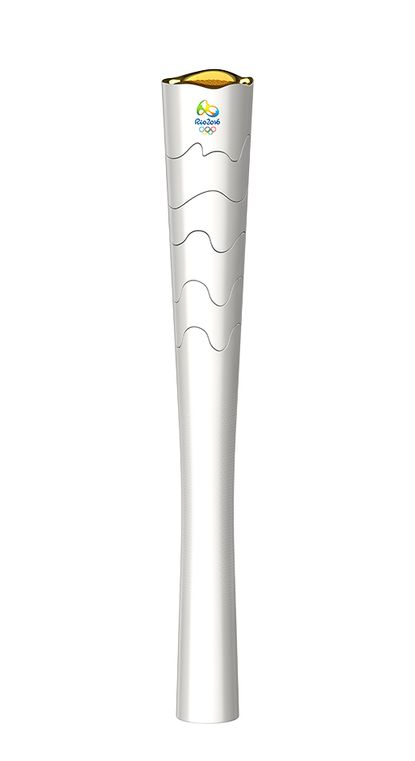 (Image credit: TBC)
'It's a big responsibility designing a symbol that must inspire positively millions of people,' says Gustavo Chelles, one half of Chelles & Hayashi Design (opens in new tab), the Brazilian studio behind Rio's 2016 Olympic torch design.

Following in the footsteps of Barber Osgerby, whose perforated metal cone creation (opens in new tab), coined 'the cheesegrater', was paraded across the UK in 2012, Chelles & Hayashi's interpretation takes an altogether different approach. 'Our goal was designing an icon that could express Brazil to the rest of the world, without the common stereotypes,' explains Chelles, 'in an object with elegance and, at the same time, simplicity.' By no means an easy feat.

Comprised of several recycled aluminium sections that represent Brazil's cultural diversity, the torch is distinguished by its unique mechanism, which, when passed between torch bearers, allows it to expand 5.5cm vertically towards its flame, simulating the movement of an athlete. When expanded, the undulating sections, coated with a pearl white epoxy resin, reveal a rainbow of different colours within, each carefully chosen to symbolise elements of Brazil's landscape – golden sun, green mountains, blue sea and Copacabana's dark blue sidewalks.

'We sketched about 250 concepts, which were filtered by the team in a collaborative process,' explains Chelles, whose studio battled it out with 76 other agencies to win the nationwide competitive tender. 'Two of them were 3D modelled and finally we decided to refine the one that best attended to our design goals.' Over the course of eight weeks, eight of the São Paulo studio's designers worked on the concept, creating models milled on a CNC machine to find the most comfortable grip. 'The movement starts when you open the gas valve for the kiss moment and the torch reveals its sections before receiving the flame.'

Manufactured in Barcelona, 12,000 of the torches will be carried across some 300 cities and towns in the 26 Brazilian states, plus the Federal District, for 90 – 100 days. As an additional interactive feature, the team have integrated cameras into the design, so as to capture their journeys and the faces of the people they will encounter on the way.