'7 Electric chairs' by Robert Wilson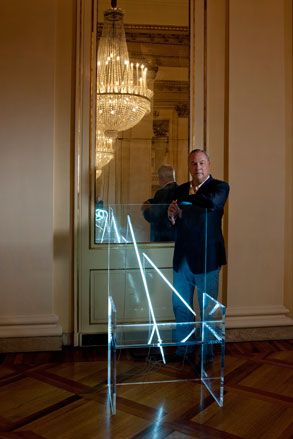 (Image credit: TBC)
When it comes to celebrating a round-numbered birthday, most people send out the invitations, arrange for a DJ and blow out a few candles in celebration. But Robert Wilson, the American director, stage designer and former Wallpaper* Guest Editor had something else in mind for his big 7-0. Why not make seven sculpture chairs from transparent polycarbonate, one for every decade?
'I am 70 years old, seven decades, seven deadly sins and there are many more (seven) references in philosophy and mathematics,' Wilson explains. 'Shakespeare's "As You Like It" contains the seven ages of man, there are seven dwarfs in "Snow White" and there is the soft drink 7up. Seven has always been a number that interests me.'
And so, it appears, do chairs. Though he's a director and set designer, Wilson is also a prolific furniture designer and a major chair collector: his personal collection exceeds 800 pieces, many of which are found in his Watermill Center in Long Island. For this very personal project, Wilson partnered with Kartell to realise the collection, which he has titled '7 Electric chairs... As you like it'.
Each unique design features 20mm polycarbonate slabs with a surface inlaid with squiggling neon lights. Kartell's Claudio Luti, who first met Wilson when Gianni Versace (his former business partner) did costumes for one of Wilson's plays, continues to be impressed by the range of Wilson's talent. 'He's a genius in every area – directing, lights, costumes, sets, furniture,' says Luti. 'He showed me this giant book of his sketches and it was just unbelievably beautiful.'
Wilson installed the chairs among the antiquities in the upstairs gilded hall of Milan's La Scala theatre: a fitting location, given that his production of 'Ulysses', for which he did the staging, set and lights, debuted the night before in the same location.