Walker Art Center opens new collectible design shop
Idea House 3, the Walker Art Center's new design shopping experience, highlights works from local and international talents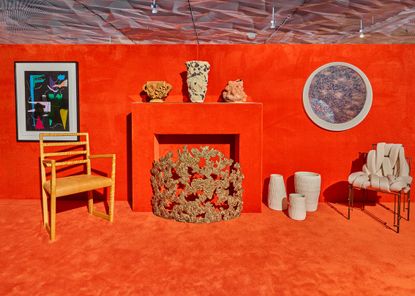 (Image credit: Courtesy Walker Art Center)
Minneapolis' Walker Art Center is one of North America's oldest and most visited cultural campuses. With museum wings designed by Edward Larrabee Barnes and Herzog & De Meuron anchoring sprawling sculpture gardens that connect with the city's larger park and lake infrastructure, the respected institution prides itself on presenting, collecting, and supporting the development of innovative work in the visual and performing arts, as well in film and design. It often does so in new and surprising ways.
It's with this foundation that the multi-pronged museum has set out to launch the Idea House 3 collectible design platform; a contextualised 'home' retail concept that doubles as a new type of curatorial framework.
Idea House 3 at the Walker Art Center
This new venture places a wide range of limited-edition furnishings, luminaires, textiles, and accessories in thematic displays. A 1,500 sq ft storefront at the centre of the campus has been divided up into different domestic vignettes: the kitchen, bedroom, living room, and office. Unique pieces by some of the industry's leading designers and most promising up-and-comers were carefully selected by Asli Altay, the head of Design, Content, and Communications, and Felice Clark, director of Business Development, to make up this showcase.
Works by crystal glassware maverick Deborah Ehrlich join the likes of polymath Studio Proba and stellar architects such as Frank Gehry. The overall aim of this project is to promote practices that embody an experimental spirit; those that employ and reinterpret tried and true craft traditions to push the discipline in new directions.
'Idea House 3 offers a new vision to experience design, by bringing together retail with museum-quality presentation and the knowledge-building of public programming,' Altay says. 'The space offers an opportunity to connect with the power of design to create an atmosphere, evoke sensations and emotions, and shape our lives. With Idea House 3, we are offering the opportunity to experience the museum store as an exhibition of the latest in design innovation that you can bring home with you.'
It's all about making the critical leap from what has in the past been austere design department exhibits that seem unattainable to something much more dynamic and relevant. Why shouldn't we be able to purchase the items that have also been placed behind the exhibit vitrine? After all, design objects are meant to be used. This approach has also opened the door for a new type of curation. Part of Altay and Clark's endeavour is to invite outside culturemakers to activate what they've coined 'The Guest Room' with temporary, thematic presentations.
Midwest Design Here & Now at the Walker Art Center
Marking the opening of Walker Art Center's Idea House 3 store this month is the inaugural 'Midwest Design Here & Now Guest Room' exhibit mounted by noted curator and writer Wava Carpenter – the cofounder of Berlin-based incubator Anava Project and former Design Miami curatorial director.
Incorporating works by talents hailing from Chicago, Detroit, St Louis, the Twin Cities and elsewhere in the region, the showcase looks to dispel the misnomer that cutting-edge concepts can only come from big East and West Coast cities. Exhibitors include such illustrious talents as Ebitenyefa Baralaye, Alex Drew & No One, Evan Fay, Steven Haulenbeek, Chris Schanck, and of course, Norman Teague.
'Underscoring the rich diversity of vision and style that abounds in the American Midwest, the exhibition shines a light on studios that craft narratively driven objects using innovative production techniques, locally sourced materials, and imaginative design approaches,' says Carpenter. 'Stretching beyond purely functionalist aims, the works in the show, each in their own way, tell engaging stories of identity, community, and place inspired by the makers' unique experiences and perspectives.'
It only seems fitting that Walker Art Center is starting off this new venture by staying close to home. The museum also plans to utilise this freshly programmed space for a number of community-oriented workshops and talks – such as the Insights Design Lecture Series, ensuring the themes explored resonate with a wider audience.
Walker Art Center
725 Vineland Place
Minneapolis, MN 55403
Receive our daily digest of inspiration, escapism and design stories from around the world direct to your inbox