Rafael Prieto's new low stools are a 'conversation' with his New York design community
Rafael Prieto's new collection of stools is made from salvaged materials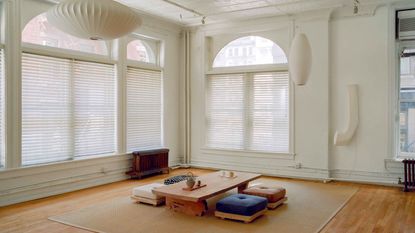 (Image credit: Sean Davidson)
The creative pursuits of Rafael Prieto are far-reaching. Founded in 2010, his design practice, Savvy Studio, based between New York and Mexico City (where his business partner Bernardo Dominguez oversees things), encompasses 'creative direction, experience, concept of graphics, branding, and all the different elements of designing packaging. A lot of editorial projects, designing books and magazines. We just redid the brand for Wendell Castle,' he says, pointing me towards a mood board of text, logos, and furniture, exploring the typefaces of his world. 'We are not an agency, we don't do marketing. We're a crafted design studio, things are very personal. There is strategy, but the strategy is, we say, conceptual and emotional.'
In addition to the creative studio, there's Prieto's Casa Bosques Bookstore in Mexico City, an extension of his long-term passion for art books; Casa Bosques chocolate (more akin to miniature sculptures, often made in limited collaborations with brands); and his three-room Pensión above the bookshop, a residency-cum-guesthouse concept; as well as his recent expansion into lighting and design objects.
Prieto works a lot by hand, manually piecing together mood boards: a scalpel, a ruler and tracing paper rest on a desk nearby. There are state-of-the-art computers in his TriBeCa studio, but this is how Prieto prefers him and his team to work: sketching, scanning, printing, sticking, layering. It's an antidote to the fast and demanding pace of the industry: Prieto himself is compelling, composed and selective with his words, searching for just the right expression before he makes a point. The common thread throughout Savvy's broad portfolio? 'Research and understanding the cultural connotations these projects could have,' he says. 'Then materiality. And finally, the art of it.'
Rafael Prieto's one-of-a-kind stools
Prieto talks of the importance of celebrating 'ordinary crafts': pottery, carpentry, textiles, while adding, 'I like how an artist can have a big concept but materialise it in one piece.' This combination of thoughts led him to his most recent creative endeavour. The idea for the stools came about very naturally, following the making of a long, low table that Prieto crafted from two planks of white oak. 'I like the idea of finding things in nature, or using scraps from lumber yards,' he says. Very simply, he needed a low stool to accompany the low table, so he set about making his own.
Collaboration is often a key part of Prieto's design process. At the time, he was working with Valerie Namé Bolaño – founder of Spoliā, a textile and clothing line that uses upcycled high-end upholstery offcuts to create unique pieces – on the interior of a downtown eyewear store. 'I asked her if she would help me source the fabric and we could work on the stools together.'

Each stool is one of a kind. Low to the ground, a seemingly simple hand-carved piece of wood supports a square cushion covered in vintage fabric and finished with a unique hand-made ceramic button. Prieto asked his friend, the ceramicist Natalie Weinberger, to make the four one-of-a-kind buttons, which took different inspirations, from Franz West to found stones.
Prieto had the stools made in Fort Greene, Brooklyn, using reclaimed white oak, by carpenter Andrin Widmer, with whom he had worked previously. 'We would just try things out in his workshop. He has a really beautiful practice of keeping the wood as natural as possible, he doesn't add things when he polishes and makes the wood soft.'
Prieto works closely with his collaborators, leaning into the expertise of the makers to shape his design decisions, as if letting the material guide his choices. He plans to produce more stools, perhaps in series and with different artist friends and collaborators contributing to the different elements, be that the fabric, or buttons and so forth. 'The stools are like a way of having a conversation with friends, almost like a documentation,' he says. Certainly exploring the intersection between art and furniture design has opened avenues for him; his first solo show under his own name, rather than that of Savvy Studio, will open at New York's Emma Scully Gallery in spring 2023.
savvy-studio.net (opens in new tab)
spolianewyork.com (opens in new tab)
Tilly is a British writer, editor and digital consultant based in New York, covering luxury fashion, jewellery, design, culture, art, travel, wellness and more. An alumna of Central Saint Martins, she is Contributing Editor for Wallpaper* and has interviewed a cross section of design legends including Sir David Adjaye, Samuel Ross, Pamela Shamshiri and Piet Oudolf for the magazine.