Omet is the new online platform for luxury Latin American design
Omet makes its debut with a collection of ceramics, hand-carved wooden furniture and rugs by established and emerging Latin American designers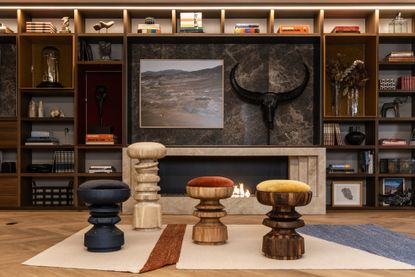 (Image credit: Andayvé)
The back catalogue of post-Second World War Mexican design is a plentiful one, and if Omet has anything to do with it, future editions will be equally bounteous. The new e-commerce platform, dedicated to furniture and furnishings from Mexico and Latin America, features works by the likes of Pedro Reyes, Héctor Esrawe, Raúl de la Cerda. Its founder, Mexican architect Lorena Vieyra, is front and centre of Mexico's thriving design scene; she has run her own studio in Mexico City for more than 20 years and went to school with Reyes. If anyone can place Mexican design centre stage, it's Vieyra.
Omet started trading online in May 2023 and puts in its first physical appearance as a pop-up at NYCxDesign (18– 25 May) with a collection of around 35 pieces. All express the richness of Latin America's local materials – volcanic stone, walnut, rosa morada, marble, onyx. 'They have a particular flavour and warmth that makes Omet special,' says Reyes. He adds: 'The manufacturing process combines artisanal processes that you hardly see anywhere else. These "recipes" are the result of intensive experimentation and care.'
For Omet, Reyes has designed a set of five palm sculptures and the 'Metatl' chair, hand- carved in volcanic stone. It's a material he loves and has worked with for many years. 'It's integral to Mexico City's landscape and is also deeply connected with the diet of its inhabitants,' he says, referring to the lava stone metates and molcajetes that, for millennia, Mexicans have used to grind corn.
The name Omet is borrowed from Ōmeteōtl, the Aztec God of creation, and the platform is 'an homage to Latino culture', says Vieyra. 'We Mexicans have design in our DNA. We were brought up with it. It's part of our culture. We are fortunate to find all this richness in the traditions, local materials and craftsmanship.' Having spent time studying in Milan and working at Atelier Mendini Studio, Vieyra has the added advantage of being able to appreciate this Mexicanidad with outsider eyes.
Each piece at Omet is made in Mexico but its designers are from all over Latin America. A bricks-and-mortar gallery opens in Austin, Texas, in September 2023, and Mexican designers are just the start. Vieyra plans to collaborate with makers from different disciplines from all over the continent. 'The possibilities for celebrating Latin American design are endless.'
Omet's pop-up gallery during NYCxDesign will be at 345 Broome St, New York, NY 10013, 11 – 21 May 2023
Emma O'Kelly is a contributing editor at Wallpaper*. She joined the magazine on issue 4 as news editor and since since then has worked in full and part time roles across many editorial departments. She is a freelance journalist based in London and works for a range of titles from Condé Nast Traveller to The Telegraph. She is currently working on a book about Scandinavian sauna culture and is renovating a mid century house in the Italian Lakes.