Colombian crafts unite tradition and modernity in Lucia Echavarria's personal anthology
Lucia Echavarria's 'Magnetic Midnight Maison: A personal anthology of Colombian craft' celebrates the beauty in remembering traditional techniques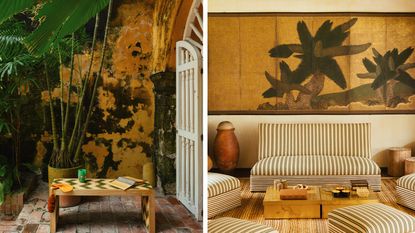 (Image credit: Courtesy of the artist and 32 St. George at LAMB)
On the cusp of South America, Colombia is a destination which dances with its heritage. A region which stretches into the mountains, yet sweeps down into the coast. The rich crafting cultural heritage is as diverse as its landscape, and varies between regions, celebrated in unity under Lucia Echavarria's personal anthology.

Presented in Mayfair's 32 St. George at LAMB, 'Magnetic Midnight Maison: A personal anthology of Colombian craft', is a year-long installation of the Colombian designer's debut furniture collection. Always fascinated by her own nation's material culture, Echavarria showcases the work of over 80 artisans across ten regions in Colombia, specialising in 12 distinct crafting styles and techniques.
Lucia Echavarria's Magnetic Midnight Maison: A personal anthology of Colombian craft
After three years of research, Echavarria has accumulated 120 pieces in this collection. Drawing upon artisanal collaborators to create her designs, research defines her practice from lounging items like chairs, sofas and ottomans, to lamps, tables screens, and even backgammon boards.
Echavarria tightropes between modernity and tradition, blending conventional furniture making with the use of wrought iron, carpentry and inlay,with traditional techniques including straw marquetry, Werregue weaving and Sikuani wood carving.
While elaborating on her creative ethos and aesthetic Echavarria explained her love for personal craftsmanship and the unique stories they tell, saying: '[…] Colombia has an immensely rich history and such beautiful crafts. I really wanted to showcase the workmanship and talent that is so intrinsic to the country's culture. It is such a special legacy that we have, and therefore important to find ways to preserve and celebrate it. Being able to present all these crafts in dialogue with one another at the gallery is amazing, and for me, furniture is a whole new canvas on which to explore the possibilities and show the incredible diversity of artistry that Colombia has.'
The collection has a deep underlying respect on keeping cultural heritage alive through the celebration of tradition, and not fully conforming to modern methods, allowing the beauty of individual craftsmanship to shine through.
Magnetic Midnight Maison: A personal anthology of Colombian craft is on view for a year from 16 November 2023
32 St.George at LAMB
London W1F 2SJ
Receive our daily digest of inspiration, escapism and design stories from around the world direct to your inbox
Tianna Williams is the Editorial Executive at Wallpaper*. Before joining the team in 2023, Williams taught scuba diving for three years before heading into journalism. Previously she has been involved covering social media and editorial for BBC Wales, Ford UK, SurfGirl Magazine, and Parisian Vibe, while also completing an MA in Magazine Journalism at Cardiff University. Her work covers writing across varying content pillars for Wallpaper*.