Gubi takes over a rationalist swimming pool in Milan, and pays homage to GamFratesi's 'Beetle' chair
During Milan Design Week 2023, Gubi's exhibition curated by Marco Sammicheli pays homage to ten years of GamFratesi's 'Beetle' chair for the brand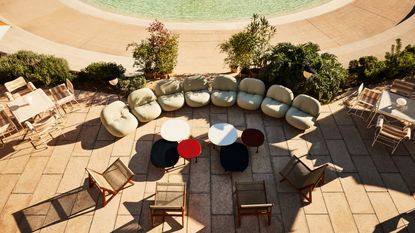 (Image credit: Courtesy Gubi)
Bagni Misteriosi, the rationalist Milanese baths named after De Chirico's eponymous painting, make their Milan Design Week debut. Through the indoor and outdoor theme 'Under the Sun', Danish furniture company Gubi has taken over the space to showcase its expanding alfresco universe of furniture and lighting. Alongside new launches, the brand displays the official return to production of masterpieces from Gianfranco Frattini, such as the 'Model 597' with its nylon fringes, and Paavo Tynell, such as the '9602 Floor Lamp', dressed into a garden of paradise of wild animals and ideal flora: 'It's a world of discovery. Room by room, layer by layer, you can be stimulated by your curiosity,' says Marie Kristine Schmidt, Gubi's chief brand officer. 'We are a lifestyle furniture and lighting brand, but we are also a storytelling brand.'
Gubi takes over at Bagni Misteriosi
This tendency is evident in 'TEN: Beyond the Beetle', a special exhibition curated by Marco Sammicheli that pays creative homage to GamFratesi's 'Beetle' chair, an icon created ten years ago: 'This journey has started two years ago, but I have always been an admirer of GramFratesi's work and I knew the story of the chair very well, so when Gubi asked me to run the show I was very happy to work around the values and the features of this chair,' Sammicheli says. 'That is also why I invited lighting designers, ceramists, music composers, architects and not furniture designers: I wanted something different to come out from a furniture design idea.'
Curator of the design, fashion, and crafts sector at Triennale Milano, as well as the director of the city's Museo del Design Italiano, Sammicheli asked ten different personalities to let their imaginations run wild with the 'Beetle' chair's unique form. The end result is a collection of expressive and playful works displayed in the atmospheric Sala Mosaico, located on the first floor of the building that overlooks the Piscina Grande, or main pool.
At the entrance, creative director Matthew Demarco's golden sign 'TEN', which references traditional Maltese typography, celebrates the anniversary of the 'Beetle'. Inside, rough rooms feature colourful and playful pieces: artist and designer Adam Nathaniel Furman transformed the chair into a fabulous pink throne with a bright yellow powder-coated tubular steel base, named 'Scarabesque'.
Fashion designer Arthur Arbesser decided to pay homage to Enzo Mari by transforming the seat and backrest into the orange snapping bill of a goose – which he calls the 'Oca' chair – while the base references Mari's cement deterrent, that the Milanese call panettone.
For a video installation, Living the Horizon, Colombian lighting designer Ximena Muoz merges the 'Beetle' chair's seat and backrest with the changing line of the Pacific Ocean's horizon.
Inspired by Ancient Greek pottery, visual artist and ceramicist Daphne Christoforou made a handcrafted white amphora, called 'Freshening Up the Palace', portraying a mythical scene of GamFratesi introducing the chair to the gods of Olympus.
'This is a place with a legacy and a heritage in Milanese history, but it's also a public space,' says Sammicheli. 'It's the ideal platform for us to express the versatility of the "Beetle" chair, the TEN exhibition, and the Gubi catalogue.'
Gubi at Bagni Misteriosi is on view until 22 April 2023
Bagni Misteriosi Via Carlo Botta 18 Milano