Chef Deco elevates gym time with sculptural glass weights and furniture-like exercise equipment
Chef Deco's Cora Hamilton and Emilie Florin created gym equipment that's not to be stashed away after a workout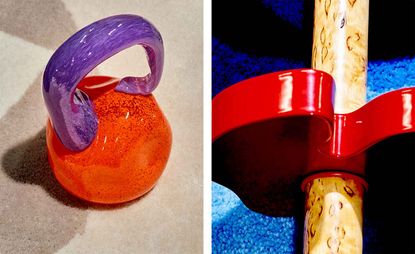 (Image credit: Chef Deco)
'We have a desire to create objects that don't have to be hidden away,' explains Cora Hamilton, one half of Stockholm-based brand Chef Deco, explaining why the pair decided to create sustainable, durable design objects – that can also double as home workout equipment that you don't have to hide away.
'We were also inspired by sculptures,' adds co-founder Emilie Florin. 'They're heavy – why not lift them and do some extra bicep curls?'
Chef Deco's 'Objects With a Hidden Agenda'
As our homes become smaller, having multifunctional pieces makes sense. Here, Hamilton and Florin answer the question 'Why can't a coffee table be used to work out?' Their resulting Jump box is a solution that can remain a part of the everyday interior scheme. 'Beautiful objects and working out make us happy,' says Florin. 'And we should be able to have fun without compromising.'
The pair worked alongside artisans such as glassblowers and steelworkers to create the weights, and they're currently selling the pieces via Instagram. The collaboration with craftsmen enabled them to test the boundaries and characteristics of the different materials they've used, including handblown-glass, Swedish Masur birch timber and 100 per cent wool. As they both have a textiles background, making a wool rug was a given.
Hamilton and Florin like to play with the historical and common perceptions of different materials and flip them on their head. 'We are also very curious, so to combine a function with an unexpected material sparks joy for us,' Hamilton says. The 'Objects With a Hidden Agenda' collection was also created out of an interest to see how people will integrate them at home. 'We would love to have our objects at gym or yoga studio, but the main target is people's homes,' Florin explains.
Chef Deco was conceived in 2020, when we were all spending a lot of time at home. The bold rugs, for instance, will inject a space with colour and add comfort underfoot, creating an island for relaxation. 'The bolsters are flexible, you can have one on the sofa as a cushion or in the bed. You can use them on the floor for meditation or just an extra place to sit,' adds Hamilton.
'The kettlebells and dumbbells are a good reminder to move your body and are beautiful decorative elements,' Florin says.
One piece is particularly successful in its multifunctional use: the coloured steel weights can be stacked on top of one another to form a vase. 'It means you'll no longer be irritated by unsightly weights,' laughs Florin.
'We have a lot more ideas right now involving different objects, pattens and colour combinations to add to the existing collection,' says Hamilton. 'We may also integrate new objects for the outdoors, as we're inspired by vegetation and what's hidden within the forest and jungle.'