Recycled combs aim to cut beauty waste
Hairstylist Sarah Jo Palmer tells us about Re=Comb, a line of recycled plastic combs she's created with fellow hairstylist Christopher Deagle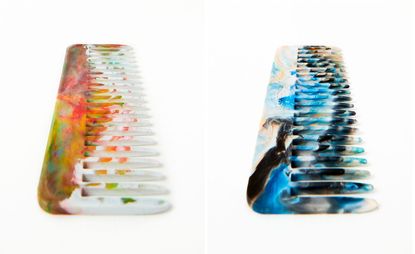 (Image credit: TBC)
Celebrated hairstylist, Editor-in-Chief of Off Black Magazine, and now recycled comb entrepreneur, Sarah Jo Palmer launched Re=Comb with fellow hairstylist Christopher Deagle after years of witnessing the exorbitant waste produced during the fashion show circuit.

Season after season, the pair would donate the hair products left backstage to shelters but, while there was certainly value in saving barely used products from the bin, Palmer realised the real problem was the inherent wastefulness of the products themselves.
'We were talking about the tools we use for our kit and what the eco-friendly version of those would be,' says Palmer. 'There didn't seem to be any options that were professional and there were very few consumer products out there.'

'There just seemed to be nothing out there that was a universal tool which was both professional and also consumer-friendly, a versatile product that could be used anywhere from backstage at fashion shows and also equally used in someone's shower at home. So we just kind of jokingly said, let's start a company...and then that obviously progressed.'

It certainly has progressed. Despite launching at the height of the Covid pandemic last year, Re=Comb has quickly garnered a loyal following and seems poised to grow even more in the coming year.
But why combs? 'We thought we wanted to start with something quite simplistic and something that also would be completely genderless,' says Palmer. 'Historically hair can be very genderized from salons to hair tools.'

'We wanted to remove that completely from our brand and create something for everyone. Simplistic, beautiful, useful and for different types of hair textures.'
Yet, Palmer hopes that combs are just the first step in a larger project to create change in the beauty industry. Ideally, waste will soon be a foundational element of beauty production. This will be through the proliferation of recycled combs and other hair tools, but also refillable packaging, subscription services delivered in bio-degradable packaging, and other initiatives that have been making headway in beauty but are not necessarily the status quo.

That transition from wasteful to sustainable is inarguably necessary but it's also difficult. When asked to describe the process for making a Re=Comb, Palmer immediately starts listing off various different types of plastics, how they are used, and how they can or cannot be recycled.

The sheer amount of information is dizzying and it drives home that there is, in fact, a whole science behind the creation of something as simple as a plastic takeaway container.
To keep it simple though, Re=Comb uses recycled polypropylene plastic to create its wade-toothed marbled combs. The brand's recycled plastics are carefully sourced from many varied avenues ranging from household to manufacturing waste, primarily generated from across the UK. These raw plastics are then shredded down, melted it and then form into a comb using an injection mould process.

Re=Comb's production process ensures that everything gets used to it's fullest, even the off-cuts or remnants from the batch before, which are saved and are reused which then, in turn, generates a whole new special colour.

Palmer and Deagle's years of working within the fashion industry have proven essential to Re=Comb. By speaking to their contacts in both fashion and beauty, the team has been able to learn what sustainable practices of other creatives and incorporate them into their own brand.
One example is Re=Comb's forthcoming replacement system, which is similar to what many luxury fashion brands offer if a handbag handle is broken or a button goes missing. If a Re=Comb is damaged, customers can send it back to the brand for repairs made with newly melted recycled plastic.

While replacement systems like this are relatively rare in beauty, Palmer believes such recycling will soon become so commonplace that individuals can do it themselves. 'Our mission is 'beauty from waste' and making recycling cool and interesting, rethinking how we recycle,' says Palmer.


'There is so much waste, we're chucking away all of this stuff, it would be amazing to have a micro-recycling centre in your neighbourhood, you go in, shred down some plastic from your home waste and make a new wonderful and functional object which would be accessible in price too.'
For Palmer and Deagle, getting across these big-picture ideas about the future of recycling is an essential component of the Re=Comb project. In the future, they hope Re=Comb will develop into more products range that across beauty and fashion, using new technologies to pioneer new approaches to production.

'We think things can really change just by having a new idea and narrative of what waste really is and what it can be next. The value of that message could be a new way to see and engage in the future of recycling.'

We can't wait to see what the brand combs up with next.
INFORMATION
Mary Cleary is the Beauty & Grooming Editor of Wallpaper*. Having been with the brand since 2017, she became an editor in February 2020 with the launch of the brand's new beauty & grooming channel. Her work seeks to offer a new perspective on beauty, focusing on the pioneering personalities, product designs, and transformative trends within the industry.