Wu Tsang's radical approach to fiction and truth takes centre stage at Gropius Bau
The American artist's yearlong residency at the Berlin institution culminates with a major survey of her filmmaking and sculptural practice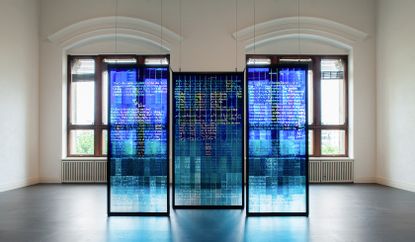 (Image credit: Luca Girardini)
In his 1990 book Poetics of Relations, Martinican philosopher and poet Édouard Glissant famously argued for the 'right to opacity for everyone', as an ethical stance against imperial conquest. This notion is central to the practice of American artist Wu Tsang, as manifested across the moving image and glass-based works featured in a new major exhibition, opened at Gropius Bau. Entitled 'There is no nonviolent way to look at somebody', it spans seven rooms, incorporating film, sculpture, text and sound and is the result of a yearlong residency at the Berlin institution – the first of its kind.

'I am working with transparency and opacity as metaphors for language,' says Tsang of her site-specific, blue stained glass windows Sustained Glass. Words are etched into the pane using acid, forming an overlapping text that fades in and out of legibility. Responding to the proportions of the 19th-century, neo-Renaissance building, the sculpture inverts the tradition of stained glass windows, depicting allegorical stories through images. 'The glass is literally shaped by the mouth and by breathing,' Tsang says of the medieval hand-blown technique, perfected in Bavaria, 'which makes a very physical connection to the voice.'

Best known for her innovative approach to documentary filmmaking, particularly in relation to queer politics and underground spaces, Tsang returns with a new film, this time dealing with the experience of migration. Shot on the island of Lesbos, One emerging from a point of view addresses the trauma of forced displacement experienced by the hundreds of refugees reaching Greece's shores every week. Weaving together fact and fiction in the style of magical realism, the film questions modes of representation in the context of the refugee crisis. 'I feel less reactionary to representational politics,' the filmmaker says of her new work, which is screened via two overlapping video projections. 'I don't feel constrained by genre or rules of filmmaking.'

Collaboration is key for the artist, who regularly draws in diverse practitioners into her work. 'My work often takes shape in dialogue with others,' explains the 37-year-old artist, recipient of a MacArthur 'genius' grant in 2018. This is reflected in the exhibition, where a number of protagonists make central appearances, from poet Fred Moten to performance artist Boychild and photographer Eirini Vourloumis. 'I see my role as a sort of director or host, in the sense that I try to create the circumstances for interactions to unfold,' she says.

As the American artist continues to take Europe by storm – soon joining the Schauspielhaus Zurich as director in residence – Tsang's Berlin exhibition offers a thoughtful overview of her practice to date, while glancing at the future.
INFORMATION
'Wu Tsang: There is no nonviolent way to look at somebody', 4 September 2019 – 12 January 2020, Gropius Bau. berlinerfestspiele.de
ADDRESS
Gropius Bau
Niederkirchnerstrasse 7
10963 Berlin