Science, symbolism and sight: Wellcome Collection explores how we see and are seen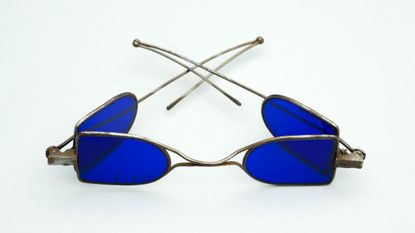 (Image credit: © Wellcome Collection)
'In Plain Sight' sees the Wellcome Collection display 144 objects and artworks in an exhibition that delves into four themes – symbolism of the eye; bias in visual perception; eyewear and identity; and the interconnectedness of senses – and is masterfully co-curated by Laurie Britton Newell and Ligaya Salazar with the visually impaired in mind.
Starting at the entrance to the building, we begin by following a black, raised line on the floor, upstairs and around to a cork-walled lobby – a promising start to the sensorily-guided show. Touch is encouraged at this London art exhibition, with Newell informing us lightly that 'if it's not in a display box, go ahead and touch it', and prioritising accessibility.
Interaction is at the forefront of the exhibition, and as we move through the four rooms, tactile, raised-edged information boards introduce us to themes and the textured underfoot guide continues through the space. The trail is marked every few metres by a dotted square, which interjects at each of the 28 digitally guided information points; these give extended audio explanations and context on the displays from artists and researchers – accessible via on-site audio guides, or through your phone using QR codes. The exhibition includes an interactive mirror that links through a QR code to Instagram, and a Virtual Reality headset that visualises the experience of becoming blind through animation and observations from John Hull, a theologian who lost sight in his later years.
One of the starting points for the show was the Wellcome Trust's extensive archive of spectacles, displayed in room three of the exhibition, 'Seeing Through Lenses'. The section leads us from the pine, rawhide and ink Inuit snow goggles, invented over 800 years ago to protect people from snowblindness, to turn-pin spectacles, chainmail glasses and a reading stone, invented by mathematician Ibn Al Haytham, who died in 1038.
Looking at starting points for assistive technology, the curators take us through ideas that have evolved over centuries of speculation and research, including the 'Bates Method', a theory from ophthalmologist William Bates (1860-1931) proposing that eyesight could be improved using eye-muscle training.
Through thoughtful exhibition design and intriguing archives, 'In Plain Sight' exposes us thoroughly to the history of our scientific, spiritual and sensory perceptions – both in the absence and presence of sight – collating an understanding of the monumental phenomena of the eye in the human experience.
'In Plain Sight', Wellcome Collection, 20 October 2022 – 12 February 2023
Martha Elliott is the Junior Digital News Editor at Wallpaper*. After graduating from university she worked in arts-based behavioural therapy, then embarked on a career in journalism, joining Wallpaper* at the start of 2022. She reports on art, design and architecture, as well as covering regular news stories across all channels.