Tunnel of love: Dan Graham's Passage Intime, at Marian Goodman Paris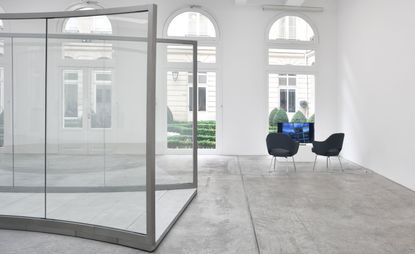 (Image credit: Courtesy of Marian Goodman Gallery)
The French are showing Dan Graham plenty of amour this year. The American writer, curator and pioneering conceptual artist currently has a solo exhibition at MAMO, on the rooftop of Le Corbusier's Cité Radieuse in Marseille. And this week, a new Graham exhibition opened at Marian Goodman's Paris space (opens in new tab), centred on Passage Intime – the latest in a series of sculpture/architecture 'pavilions' Graham has been working on since the late 1970s.

Passage Intime is essentially two stainless steel curves holding two way mirrors. It allows for two people to walk between the curved screens at the same time, though with a degree of forced intimacy. Which is the point. 'Passage Intime can be seen either as a Tunnel of Love or as a frightening tight squeeze,' says Graham. 'A claustrophobic and uncomfortable spatial experience or an intimate body moment.' This discombobulation is compounded by the distorting effects of the curved two-way mirrors, for those inside and outside the passage. The work Graham says, is part 'fun house', part exploration of Lacanian theory.

The show also includes the first screening of Graham's 2004 satirical rock opera Don't Trust Anyone Over Thirty; a collaboration with puppeteer Phillip Huber (whose CV includes Being John Malkovich and John Denver and the Muppets: A Christmas Together), set designer Laurent Bergen and art-rockers Japanther.

On 12 October, Passage Intime will begin a month-long residency in Place Vendôme, partnered with another of Graham's pavilions, Two Nodes, currently on display at MAMO.
INFORMATION
Website
Courtesy of Marian Goodman Gallery Paris. 'Dan Graham' is on view until 8 October
ADDRESS
Marian Goodman Paris
79 Rue du Temple
75003 Paris
VIEW GOOGLE MAPS (opens in new tab)