Tierney Gearon exhibition, London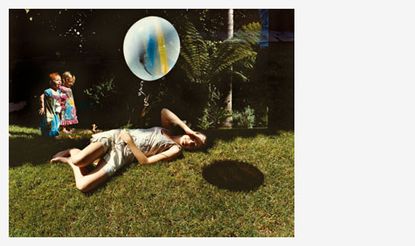 (Image credit: Tierney Gearon)
You get the feeling that looking at Tierney Gearon's photographs is a bit like flicking through her family snaps. But it is the honest and personal nature of Gearon's work, as well as a wad of photographic talent, that make them such vivid images and explain why they're currently on show at Phillips de Pury's London gallery.
See more of Gearon's photographs
Following five years as a fashion photographer (and this after a stint as a model), the Atlanta-born photographer found her true artistic calling a little closer to home, taking pictures of her own environment and family.
She first garnered attention at the Saatchi Gallery, with her 'I am a Camera' exhibition back in 2001, for which she received widespread critical acclaim as an artist, as well as some less-intended publicity from a selection of British press demanding provocative pictures of her children be taken down.
By the time she showed 'The Mother Project' in 2006 at New York's Yossi Milo Gallery, where she chronicled three years of her life with her mother in a brutally frank manner, Gearon had firmly estabished herself as a leading art photographer.
'Explosure' though, the title of her exhibition at Phillips, shows a new vein to her work - that of double exposure. Where most of us are a little annoyed to find a double exposure in our pack of photos, Gearon has done it on purpose, exploring the nature of juxtaposed situations.
What at first appear to be accidental combinations of family scenes are on closer inspection minutely assembled biographical episodes from Gearon's past, imbued with a haunting, ethereal quality from the double exposure effect. The honesty and provocative nature of her earlier work is still evident, just softened a little by the dreamlike compositions.
ADDRESS
Phillips de Pury & Company
Howick Place
London SW1
Harriet Lloyd-Smith is the Arts Editor of Wallpaper*, responsible for the art pages across digital and print, including profiles, exhibition reviews, and contemporary art collaborations. She started at Wallpaper* in 2017 and has written for leading contemporary art publications, auction houses and arts charities, and lectured on review writing and art journalism. When she's not writing about art, she's making her own.