The Pompidou pops up: Málaga adds the Parisian leviathan to its roster of visiting galleries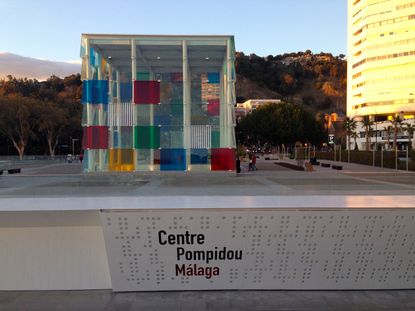 (Image credit: Jake Cigainero)
France has set out to conquer the world through one of its greatest powers - culture - and it's starting with Spain. Paris's George Pompidou Centre (opens in new tab) launched its first international outpost on 28 March in the Andalusian port city of Málaga, a hub of new cultural development and hometown to art icon Pablo Picasso.

For the next five years, the "popup" Pompidou will occupy El Cubo, an underground cultural centre that has sat empty since its construction in 2013. A transparent glass Rubik's cube crowns the 2,000-square-metre space on Málaga's industrial harbour, bringing to mind Apple's Manhattan flagship store (opens in new tab) on Fifth Avenue.

A semi-permanent circuit of 90 works from the Pompidou's nearly 100,000-piece collection will live in El Cubo's cavernous galleries for two years before a new rotation. Two to three temporary exhibitions a year will also run alongside the collection starting with a series of contemporary dance videos and followed by a programme line-up of Joan Miró drawings, female photographers of the 1920s and 30s and Dadaist works and films.

The first installation cycle, simply titled The Collection (opens in new tab), begins with Pierrick Sorin's 'It's Really Nice' (1998), a modern homage to Picasso's abstract portraiture style in the form of 32 screens showing video portraits of as many digitally manipulated faces. The rest of the premier presentation is a thematic panorama of sculpture, painting and video that examines the metamorphosis of the human form in art through the 20th and 21st centuries. Walking through the self-portrait gallery is a cruise through a time before the age of camera phones and social media, when the only filter was the artist's imagination. Some of the artists on display include Francis Bacon, Alexander Calder, Charles Chagall, Max Ernst and Frida Kahlo.

With the Louvre's Abu Dhabi location scheduled to open this year and the St. Petersburg State Russian Museum also setting up shop in a 1920s Málaga tobacco factory just days before the Pompidou popup, the international satellite concept is a new model of development for cultural institutions.

The Pompidou isn't the only one with development in mind. The city of Málaga has invested tens of millions into museums the last 15 years to transform the beach holiday hotspot into a cultural destination. For the price of €1 million per year (plus the additional €6.7 million spent outfitting El Cubo for its new resident), Málaga gets to add the Pompidou to its jewel box of more than 30 museums, which includes the Picasso Museum, Carmen Thyssen Museum and the Contemporary Art Centre.

After the touring Pompidou Mobile project and opening a domestic branch in Metz, outgoing Pompidou president Alain Seban said the Málaga partnership is an experiment before committing to expansion to other foreign cities. The programme is not just a means of financial survival, but also a strategy to stay relevant.
'We are a contemporary art museum, so we have to keep up with art that is constantly moving every year,' Seban said. 'The Pompidou's agenda is driven by the necessity to expand the collection.'
With sights set on staking a claim to territory in emerging contemporary art scenes, the Pompidou will soon start accepting proposals from other cities, with particular interest in Africa and Latin America.
ADDRESS
Centre Pompidou Málaga (opens in new tab)
Muelle Uno
Muelle, 1
29001 Málaga
VIEW GOOGLE MAPS (opens in new tab)