The Museum of Everything's road trip across Russia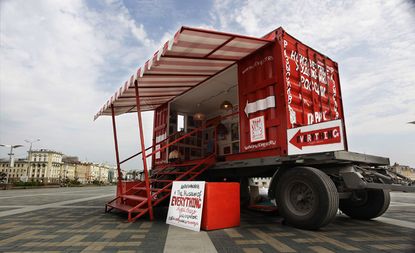 (Image credit: Uma Jovita Valaityte)
Over the last three years, James Brett's Museum of Everything has, with all the cheeky charm of its founder, raised big questions about what contemporary art is and what the contemporary art institution does and, by implication, does not. In a series of shows in the UK and Europe he has a championed non-traditional and outsider art, unearthing 100s of new self-taught artists and pulling in crowds of over 300,000.

This summer he took his operation to Russia, hitting the road in a converted truck and rolling into Yekaterinburg, Kazan, Nizhny Novgorod and St Petersburg before finally parking up in Moscow, an epic trek of 3,500km. Brett and his team spent three days in each city, opening their trucks to local artists and displaying their finds. The best of this haul will make up the inaugural show at the new temporary home for Dasha Zhukova's contemporary art gallery Garage, a Shigeru Ban-designed pavilion in Gorky Park in 2013.

A full report on the Museum of Everything's adventure (and much more about Zhukova and her plans for Garage) appears in our Reigning in Russia issue.